Sidney Kimmel Cancer Center Patient Stories
At the Sidney Kimmel Cancer Center, we don't just treat cancer patients. We practice a fully-integrated approach to oncology, from research and training programs for pre- and post-doctoral level students to outreach programs for cancer survivors and their families to address their physical and emotional health. Through cutting-edge clinical trials and conventional cancer treatments, each patient, their family and caregivers receive expert, humanitarian care.
research
Search for Jefferson research studies that is open to enrollment.

Advancements
As one of the top cancer care hospitals, SKCC provides patients with tailored treatments specific to the patient's condition.
Cancer Center
SKCC University Medical Departments are Cancer Biology, Medical Oncology and Radiation Oncology.
SKCC's Mobile App
The Sidney Kimmel Cancer Center is excited to announce the launch of our new mobile app, Cancer Docs. The app makes it easy for patients and doctors to contact all Thomas Jefferson University Oncology physicians. Download the app today for both iOS and Android devices on iTunes and Google Play.
SKCC News
CLINICAL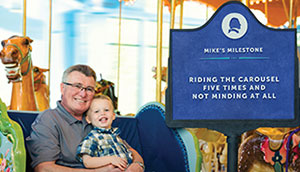 Ordinary moments become milestones when you've overcome cancer. View our patients' stories about their personalized treatment plans, how Jefferson approached their care and what it is like living cancer free.
CLINICAL
Jefferson has teamed up with Foundation Medicine and serves as a founding member of a new Precision Medicine Exchange Consortium to provide genomic sequencing for a subset of patients with solid tumors.
Maps & Directions
The Sidney Kimmel Cancer Center is on the Thomas Jefferson University campus, located in the heart of Center City Philadelphia.