High Reliability Health Care Academy
High Reliability Healthcare Academy: Creating Chief Reliability Officers of the Future
Coming In Fall 2021!
Are you ready to lead? In today's dynamic healthcare environment, leaders must be able to provide quality health care while they manage advances in technology, financial pressures, and extraordinary clinical challenges. Delivering safe, effective and reliable care requires an approach that integrates the science and practice of High Reliability, Quality Improvement, Leadership, Culture, Knowledge and Learning Systems.
In partnership with  Safe and Reliable Healthcare, LLC, JCPH is pleased to offer the High Reliability Healthcare Academy (HRHA), a targeted training program for existing and aspiring leaders that will uniquely position them to meet these complex and dynamic challenges.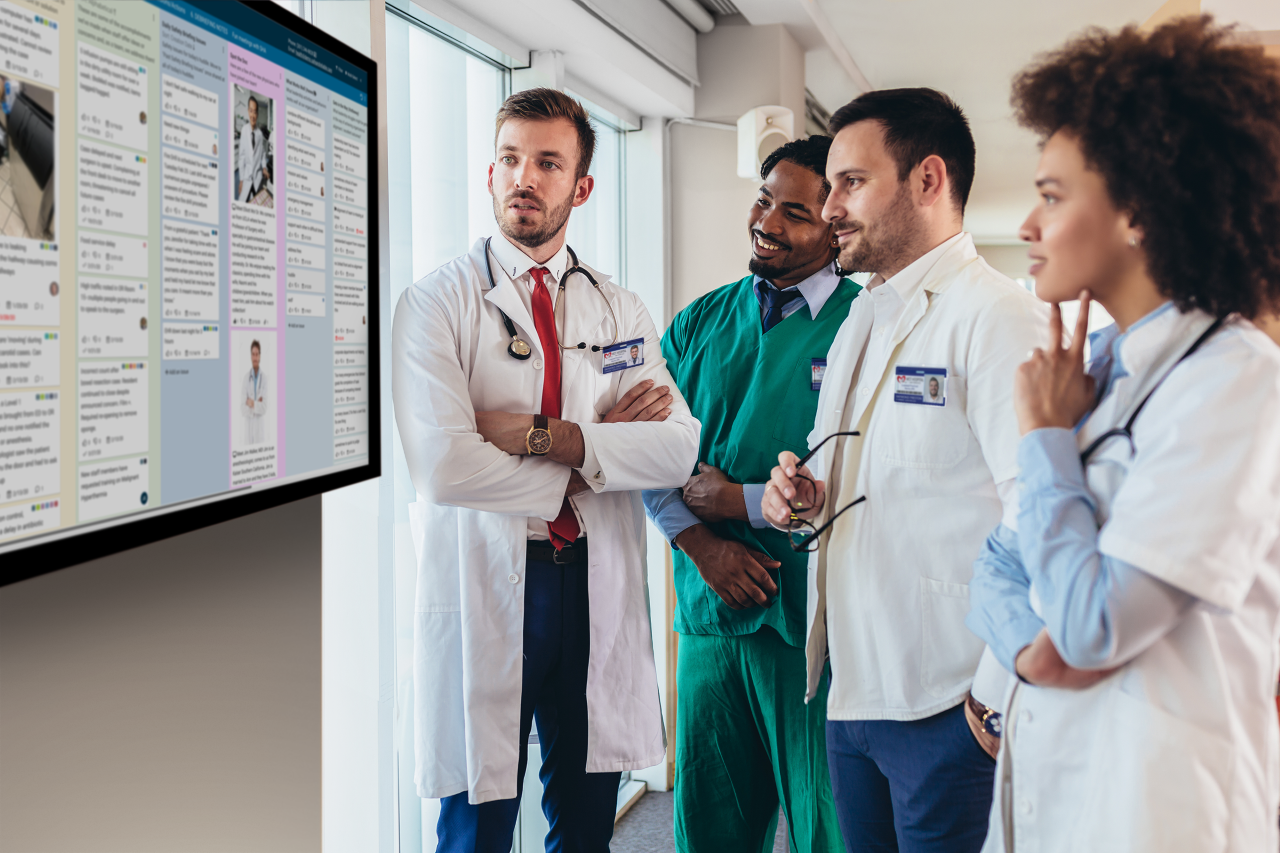 What You Will Learn
In this highly interactive virtual program, you will: 
Study relevant theories and concepts.
Develop leadership skills and behaviors.
Apply those insights through a number of core leadership activities that manifest High Reliability in practice. 
Work with like-minded colleagues and international faculty to develop a capstone project, aligned to your organizational or personal goals.
Ongoing coaching and mentoring support is available for 3 months after graduation through participation in an optional learning community. 
Who Should Attend?
Teams or individuals who are responsible for implementing and maintaining operational efficiencies, throughput, and optimizing patient flow in acute care hospitals​, long-term care or skilled nursing facilities, including: 
| | |
| --- | --- |
| Chief Operating Officers  | Service Line Leaders  |
| Chief Nurse Executives  | Financial Analysts  |
| Pharmacy Directors  | Quality Improvement Leaders  |
| Medical Directors  | Patient Safety Officer  |
| Nursing Directors  | Chief Quality Officer  |
Time Commitment
Participants can expect to spend approximately 4 hours per week on the program, including the online sessions, team planning time, and asynchronous learning. To gain the most value from each session, each participant should expect to reflect on new learnings and applications on a weekly basis.  A detailed schedule will be posted when registration opens. 
Registration Fees
Online Virtual Program  - $8,495 USD per person                     
Groups of 3 or more - $7,495 USD per person 
Lead Faculty
Amelia Brooks, MSc 
Chief Knowledge and Implementation Officer          

A globally recognized expert in patient safety, high reliability and quality improvement with a background in human factors, culture change and large scale improvement efforts. Ms. Brooks has over 15 years' experience of driving improvement in healthcare around the world from both internal and consultative roles.
Ms. Brooks has worked operationally in management and leadership roles in primary care, acute care, regional and national organizations and most recently completed four years as Senior Director (Europe & Patient Safety) at the Institute for Healthcare Improvement (IHI) where she remains as Senior Faculty. She has has been instrumental in developing theoretical and practical concepts in the field including designing a revised approach to Just Culture and being core faculty for the IHI Patient Safety Executive Development Program.
Ms. Brooks is a Generation Q Fellow with the Health Foundation (UK) and regularly presents at international and national conferences. Miss Brooks has supported many organizations on transformational journeys to high reliability and improved quality, including running a European leadership network with senior leader representatives from up to 12 countries at a time. She has also contributed to the design and development of several significant contributions to the field including creating the Life QI improvement system in partnership with SeeData. 
Allan Frankel, MD
Chief Executive Officer
Dr. Frankel is an internationally recognized expert in high reliability with a deep focus on leadership and culture change. Over the last three decades, Dr. Frankel has assessed more than 1000 organizations and trained and certified more than 3000 healthcare leaders and managers in safety and reliability. As Senior Faculty for the IHI and the Intermountain Advanced Training Program [ATP], Dr. Frankel has designed and led well-published efforts to transform national health systems, large health plans with millions of members, and integrated care delivery systems in North America, the NHS UK and Scotland, Hong Kong, and the Gulf Region. Dr. Frankel's career in high reliability has been highlighted by serial innovations and contributions to the field. Some of these include co-development of surveys including the SAQ survey (1994), the AHRQ/SOPS family of surveys (2002), and the SCORE High Reliability Assessment Tool (2014); Executive Healthcare WalkRounds (2001); the Global Trigger Tool to measure all cause harm (2003); and LENS High Reliability Huddle boards (2016). Dr. Frankel continues to serve as a senior advisor for reliability and safety for the Military Health System; Kaiser Permanente; Mayo Clinic; the Veterans Health Administration and several other leading systems.
Dr. Frankel serves as a longtime co-editor of the Joint Commission's Essential Guide for Patient Safety Officers along with his business partner, Dr. Michael Leonard. Key tenets of the central framework for high reliability that Safe & Reliable Healthcare co-developed and co-published with the Institute of Healthcare Improvement, including those related to assessment and change management, have been adopted by various organizations including the Joint Commission's ORO 2.0 program. Dr. Frankel continues to develop and share field-defining insights on high reliability and is the author of three books and numerous peer-reviewed publications.  

In the mid-90s, Dr. Frankel served as the first physician Patient Safety Officer in the United States for the Harvard hospitals / Partners Healthcare.
Maureen Ann Frye, MSN, CRNP, ANP-BC, CPPS, CPHQ
Senior High Reliability Expert 

Maureen Ann Frye is passionate about leading organizations to high reliability by integrating the best practices around patient safety, patient experience and workforce safety and engagement into operational frameworks.   Maureen is a seasoned patient safety and quality leader with nearly 3 decades of innovative leadership directly aimed at culture, the fabric of an organization.
Prior to joining Safe and Reliable, Maureen was the Senior Director of the Center for Patient Safety and Healthcare Quality at Abington Jefferson Health.  During her tenure, strategic efforts aimed at governance, leadership, physician and staff resulted in the creation of structures, processes and educational that led the organization to the reduction of preventable harm by 95% since 2007.  
Maureen was a 2016 Malcolm Baldrige Fellow focusing her capstone efforts on "Optimizing Reliability to Improve Patient Safety and the Experience", integrating these key success factors and measures.  In 2008, Maureen was a principal investigator of the landmark research, "Adverse Events in Hospitals", sponsored by the DHHS/ OIG. She is a popular national presenter and innovator in patient safety and quality and has been featured at the National Patient Safety Foundation (NPSF), National Association of Healthcare Quality (NAHQ), American Society for Healthcare Risk Management (ASHRM) and local / private organizations.  A Master TeamSTEPPS trainer and GE-certified Master Change Agent, Maureen co-designed and led the systematic approaches for Abington Jefferson Health's "Journey to High Reliability."
Ms. Frye earned her Bachelor of Science in Nursing degree from the University of the State of New York.  She has extensive clinical experience as an Emergency/Primary Care Nurse Practitioner, a degree earned from the University of Alabama in Birmingham. She holds a Master of Science in Nursing degree from La Salle University.  She is an ANCC-certified Adult Nurse Practitioner, a certified professional in patient safety (CPPS) from NPSF, and a certified professional in healthcare quality (CPHQ) from NAHQ. She is adjunct faculty for several universities and a member of the Board of Examiners for the National Baldrige Excellence Program, serving as senior examiner and as an independent consultant.   Ms. Frye understands the essential role of organizational alignment and the integration of strategy to engage the workforce and achieve exceptional outcomes.
Michael Leonard, MD
Board Chair                                          
Dr. Leonard works broadly across American Healthcare and several countries internationally. In 1999, Kaiser formed a partnership with Dr. Robert Helmreich's Human Factors Research Group at the University of Texas, and he had the benefit of learning from people with deep expertise in safety culture and teamwork in high-risk environments. Dr. Leonard is particularly interested in the effective adoption of this learning into the world of healthcare in clear, effective and sustainable ways. Along with his colleague, Dr. Allan Frankel, he has worked extensively to develop practical, comprehensive models that enhance patient and family centered care, effective leadership, a culture of safety, collaborative teamwork, high reliability, and an environment of continuous learning and improvement. The TEM model (Team Based Engagement), co-developed with the Mayo Clinic during his time at Pascal Metrics;  and the SocioTechnical Model are used effectively to assess and intervene at a clinical unit, hospital or health system level. Safe and Reliable Healthcare has extremely dedicated, skilled individuals caring for patients. It is committed to enhancing the enhancing the delivery of safe and reliable care through a systematic framework and practical tools valuable to patients, caregivers, and healthcare organizations. 
For additional details contact JCPH Senior Project Director, Melissa.Horowitz@Jefferson.edu
About Safe and Reliable Healthcare:  At Safe & Reliable Healthcare, our goal is for engaged healthcare teams to provide the highest quality care possible, care that is truly safe and reliable.  Our belief and experience demonstrate that organizations who excel in creating healthy cultures, harnessing knowledge, building learning systems and developing transformational leaders are better positioned to achieve High Reliability and failure-free operations over time.  We work with individuals and organizations to embed our Framework for High Reliability, using enabling technologies and results-oriented consulting to co-create sustainable transformation for and with our clients.