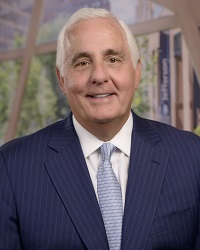 Emeritus Trustee
Interim President, Thomas Jefferson University
and Interim CEO, Jefferson Health
Mr. Haverstick is an emeritus trustee and the immediate past chairman of the board of trustees of Thomas Jefferson University and Jefferson Health. The board of trustees appointed him Interim President, Thomas Jefferson University and Interim CEO, Jefferson Health, effective January 1, 2022.
Following retirement from Ernst&Young ("E&Y") after a thirty-nine year career, Mr. Haverstick has served as an independent trustee of public entities in the financial services, real estate and technology sectors. Throughout his career with E&Y, Mr. Haverstick held many leadership positions, including managing partner of the Philadelphia office, banking industry leader for the mid-Atlantic and Southeast regions of the U.S. and partner-in-charge of Human Resources for the mid-Atlantic region. Mr. Haverstick's clients, many with international operations, included companies in the financial services, retail, technology, manufacturing and government contracting industries.
Mr. Haverstick has held board positions with many civic, charitable and professional organizations, including the Greater Philadelphia Chamber of Commerce, the Greater Philadelphia CEO Council for Growth, the Philadelphia Bar Foundation, the Southeast Pennsylvania Chapter of the American Red Cross, the Philadelphia Arts and Business Council, the PenJerDel Council, the Greater Philadelphia First Corporation, and Movement Theatre International. He also served as president of the 6,500-member Philadelphia Chapter of the Pennsylvania Institute of Certified Public Accountants.
A graduate of Temple University, Mr. Haverstick is a member of the Fox School Board of Visitors and chairs the Fox School Accounting Advisory Board. In 2019, he was named a Fox School Centennial Honoree and he received a Lifetime Achievement Award from the Fox School Accounting Department.
Updated: 01-01-2022