Patricia Curtin White, MD '88, Fellowship '00, FACP, CMD
President, SKMC Alumni Association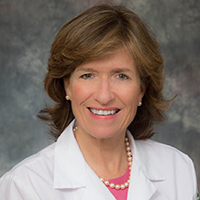 Patricia Curtin White, MD '88, Fellowship '00, FACP, CMD
President, SKMC Alumni Association
Patricia Curtin White, MD '88, Fellowship '00, FACP, CMD, is a board-certified geriatrician and internist, and Section Chief of Geriatric Medicine at Christiana Care Health System (CCHS) in Delaware. She was part of the team that opened the Swank Memory Care Center in 2011—the only memory care center in Delaware. She is the Medical Director of the Acute Care of the Elderly (ACE) Units at Christiana and Wilmington Hospitals, the WISH (We Improve Senior Health) Clinical Education Program, Stonegates Retirement Community and Health Center, and Riverside Adult Day Program. She is a member of the CCHS Board of Trustees and a former member of the CCHS VNA Board of Directors, serving thirteen years as Vice Chair.
Dr. Curtin White is a graduate of the University of Notre Dame, Penn State University at Hershey Medical Center, and Jefferson Medical College (1988).  She was a resident and chief resident in Internal Medicine at the Medical Center of Delaware.  She completed a fellowship in Geriatric Medicine in 2000 at Thomas Jefferson University Hospital. She is a full-time faculty member in the Department of Medicine at CCHS and Director of Geriatric Medicine Resident Education. She has an appointment as a Clinical Assistant Professor at the Sidney Kimmel Medical College of Thomas Jefferson University. 
Dr. Curtin White served as the first woman Alumni Trustee to the TJUH Board of Directors (1988-1993). In addition, she served on the Admissions Committee for Jefferson Medical College for many years (1993-2006). She also served as a member of the Jefferson Senior Health System Medical Directors' Consortium. She has served on the Jefferson Alumni Executive Committee since 1992, involved in several committees, including the Alumni Trustee, State and Regional Affairs, Women's Forum, and most recently, Bylaws Committee. She served as a Vice President from 2008-2011.
During her career, Dr. Curtin White has been involved with or chaired numerous committees and teams, focused on the team approach to improving care for older patients. She organizes rotations and curriculum to educate residents, students, and others about the special needs of seniors.  She is actively involved in the community and served on the State of Delaware Alzheimer's Disease Task Force Committee, co-chair of the Education and Training Subcommittee, and most recently served on the State of Delaware Alzheimer's Plan Implementation Steer Committee to ensure improved education, care, and services for those affected by memory impairment. She also serves as Vice Chair of the Advisory Board of Saint Mark's High School in Wilmington, Delaware.    
Dr. Curtin White has been the recipient of several awards including the national Jefferson Champions Award for Outstanding Public Service by an Employee, recognized for her work in geriatrics, in the community, and for medical mission trips to Haiti. She has been participating in and leading medical teams to Haiti with the Notre Dame Haiti program since 2009, recently returning from her sixteenth trip.  She is married and has 3 children, one of whom is a medical student at SKMC.