Pinizzotto-Ammon Alumni Center
Marie E. Pinizzotto, MD '88, MBA and Carol A. Ammon, BSN '17, MBA Alumni Center
Designed to welcome you and make your campus visit special, the Pinizzotto-Ammon Alumni Center is your home away from home at Jefferson. The Alumni Center is the place for all Jefferson alumni to relax, socialize, network, and reminisce in a comfortable lounge among a collection of historical objects, artifacts and photographs from the Jefferson Archives. It's a place that commemorates the exceptional legacy of our alumni, as well as the rich history of Thomas Jefferson University. It's a place where you can stay connected to the past, present and future of Jefferson.
A Place to Relax, Reminisce & Connect
Reunite with your Jefferson classmates and friends in a comfortable lounge.
Take a trip down memory lane perusing yearbooks, alumni magazines and a curated collection of historical artifacts, objects and photographs from the Jefferson Archives, all showcased in custom-built displays.
Experience rotating exhibitions of artistic works by Jefferson alumni that highlight their creative talents beyond their professional training featured in the Rieders Family Alumni Art Gallery.
Attend a growing number of alumni events and receptions held in the Alumni Center. For a list of upcoming alumni events, click here.
Participate in an alumni association board meeting or alumni volunteer committee meeting in the Diploma Nurses Conference Room.
Discover alumni, and family links and legacies, on the digital Alumni Legacy Wall. Prominently located at the entrance to the Pinizzotto-Ammon Alumni Center, the Alumni Legacy Wall provides a lasting tribute to the alumni and legacy families who have contributed to the Alumni Center. To find out how to add your name to the Alumni Legacy Wall, click here.
Support the Campaign for the Pinizzotto-Ammon Alumni Center through one of several naming and giving opportunities. For more information, click here.
Visit the Pinizzotto-Ammon Alumni Center
The Pinizzotto-Ammon Alumni Center is located in the heart of Jefferson's Center City campus on the second floor of Jefferson Alumni Hall, which is located on Locust Street between 10th and 11th Streets.
Alumni Relations supports Jefferson alumni from offices located within the Alumni Center and the team is ready to assist you when you arrive.
Free Wi-Fi, coffee and water are available, along with a comfortable lounge for relaxing and reminiscing. The building and the Alumni Center are wheelchair accessible.
Let Security at the front desk know that you are here to visit the Alumni Center and they will provide access into the building. You can take either the elevators or the stairs to the second floor.
Hours Of Operation
Open Monday through Friday from 8 a.m–5 p.m. ET
Address
Pinizzotto-Ammon Alumni Center
Jefferson Alumni Hall
1020 Locust Street, Suite 210
Philadelphia, PA 19107
Parking
Parking is available across the street in the Hamilton Garage, located on 11th Street, between Walnut and Locust Streets. For more information and parking rates, click here.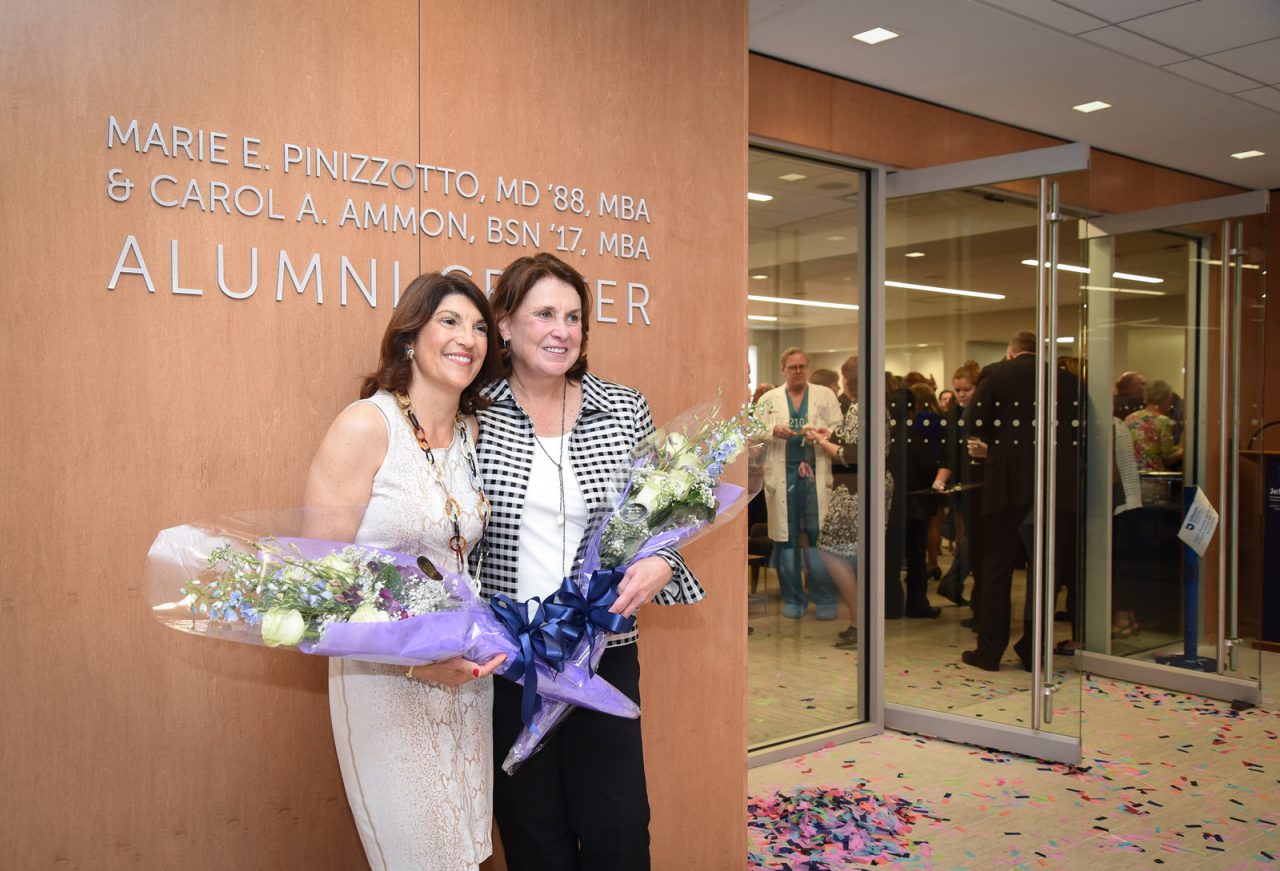 A New Home Base for All Graduates
Marie E. Pinizzotto, MD '88, MBA and Carol A. Ammon, BSN '17, MBA
Thanks to a leadership gift from two alumnae, Marie Pinizzotto, MD '88, MBA, and Carol Ammon, BSN '17, MBA, alumni returning to Jefferson are able to head to a comfortable lounge to sip a beverage and enjoy reconnecting. Or have a seat on a cozy couch and flip through an old yearbook. Or attend a variety of alumni meetings and events in a high-tech conference room.

The Alumni Center is both a tribute to the remarkable achievements of our alumni and a testament to our commitment to them. It is a permanent invitation— an open door, ready to welcome them back home.