We Improve Lives
An outfit that fixes your posture. Headphones designed to heal. A club for financial literacy. 3D-printing the irreplaceable. At Jefferson, we are helping to redefine what's humanly possible and changing higher education to provide our students with unparalleled value. Through our distinctive and award-winning 21st-century curriculum, you can dream bigger, think bolder and create what's next.
The Nexus: Top Moments of 2020
A Year Like None Other
With COVID-19 dominating all facets of life, The Nexus' coverage began in February and continued throughout the year—including an SKMC student working with Dr. Anthony Fauci and Jefferson alumni pitching in to make PPE. While the pandemic grabbed headlines, The Nexus covered many angles, from a World Sneaker Championship, to an American Girl Doll character, to a medal-winning Paralympian at SKMC, and so much more.
Updates on Our Spring 2021 Semester
Coronavirus (COVID-19) Information
The health and safety of the Jefferson community are of the utmost importance to us. As we continue to closely monitor the coronavirus (COVID-19) impact on our students, faculty and staff, our dedicated site contains updates to the Jefferson community and general information about COVID-19. 
'Institute for Smart and Healthy Cities' Launches
Focused on transforming urban environments into smart and healthy cities, Jefferson's new Institute supports research, innovation and education taking place across the university. Our Smart Cities site features academic programs, videos, and much more to highlight the emerging paradigm in the development of urban environments in an attempt to build more efficient, healthier and livable cities.
Visit Jefferson
Our campuses are tradition-breakers and beautiful places to learn. We cross the city and the suburbs. From our vibrant Center City campus to our East Falls grounds and beyond, each location offers a unique learning environment to experience all that is Jefferson.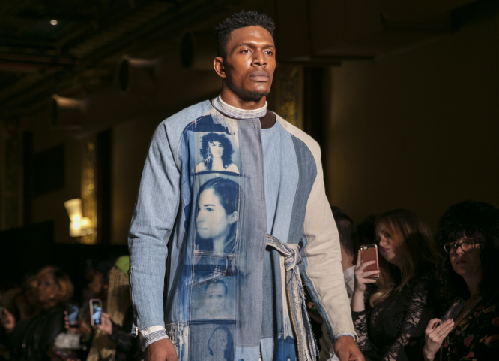 Fashion Students' Collections Shine at New York Fashion Week
Two Jefferson fashion design students were invited to showcase their work at the Designers' Premier show as part of New York Fashion Week in February.
Jefferson Undergraduates Achieve 97 Percent Employment, Grad School Success Rate
According to the Class of 2019 First Destination Report, Jefferson alumni from the undergraduate class of 2019 has achieved an employment and graduate school success rate of 97 percent.
Fashion Alumni Excel as Entrepreneurs
Even in the throes of the pandemic, alumni from Jefferson's two business-focused fashion programs—global fashion enterprise and the BS in fashion merchandising and management (FMM)—have excelled in their careers. Using their creativity, drive and lessons learned at the University, grads like Dyandra Raye have launched companies and become entrepreneurs.
Industrial Design, Med Students Collaborate on 'JeffSolves'
Three transdisciplinary student teams recently developed innovative solutions to healthcare problems during the annual JeffSolves MedTech program. Groups of industrial design and Sidney Kimmel Medical College students pitched their novel concepts—a car seat for children in hip spica casts; a system to prevent IV infections; a breast pump sanitizer and dryer—as part of DesignPhiladelphia.
Finance Students Create 'Jeff Invest'
"Financial literacy is critical for economic independence," says Dr. Philip Russel, dean of Jefferson's School of Business. "Yet, it remains at a woefully low level in this country." A group of finance students—Shawn Johnson, Kyle Porpiglia, Michael Rodriguez and Rosario Tineo—set out to change the narrative. Last year, the founded Jeff Invest, a club dedicated to helping all students improve their financial literacy.
When the Pandemic Hit, JIB Stepped Into the Spotlight
Uniquely qualified to train students and industry professionals at the time it is needed most, the Jefferson Institute for Bioprocessing's focus is multi-fold: providing hands-on training to industry professionals through workshops and certificates, and hands-on education of new bioprocessing engineers at the undergraduate and graduate levels.