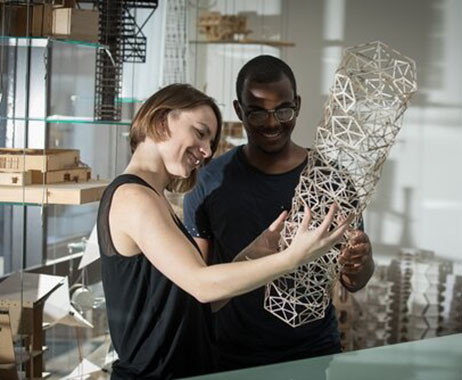 In a world where rapid change is the norm, employers are seeking graduates who are ready for what's happening right now and for what will come in the next century. Jefferson's distinctive, active, collaborative, real-world Nexus Learning approach is exactly what you need to gain that kind of competitive advantage.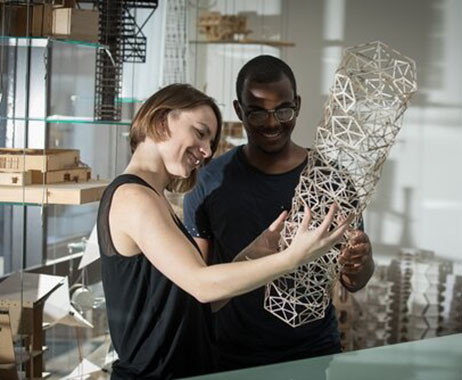 Redefining Possible.
To redefine possible, we dare to ask the bold questions. But asking tough questions isn't enough – we need to answer them. By converging people, ideas and perspectives, we find innovative solutions for real-world problems. We focus on our craft to drive progress and growth in architecture, business, design, engineering, fashion & textiles, health, medicine, nursing, science and social science.
Are you ready for the future of work?
Built for a future that has yet to be defined, Jefferson is crossing disciplines to bring unrivaled innovation and discovery to higher education. Through boundary-breaking collaboration, research and hands-on, experiential learning, we equip graduates with leadership and analytical skills shaped for an accelerated job market.
By working on transdisciplinary teams, you'll gain a broader understanding of differing perspectives and develop critical decision-making skills so you are able to solve complex problems. Our promise is to prepare you for tomorrow's yet-to-be determined professions (maybe even one you'll invent for yourself)! You see, at Jefferson, we're redefining "possible" and by doing so, delivering unparalleled value to your academic experience.
Hands-On Immersion Through Interprofessional Education
Inter-what? Well, think about it. In the real world, physicians may interact with physical therapists, neuroscientists may work with respiratory therapists, and all may work with nurse practitioners. The professional world isn't siloed according to job descriptions – so why should curricula in higher education be? At Jefferson, we've torn down the walls!
There's no better way to prepare for your future profession than by spending your undergraduate and graduate years immersed in, and informed by, hands-on experiences among colleagues within connected professions and disciplines.  This approach creates team-based learning, collaboration and decision-making — with an appreciation for many points of view. Kind of like in the real world.

U.S. News Ranks Jefferson
Nexus Learning™ - Designed to Stand Apart
Jefferson doesn't separate academic disciplines into silos. That's what we call restrictive, and so … well, yesterday. Jefferson brings you into tomorrow, today! We're linking the arts and sciences, redrawing limits and slicing through every standard and norm that exists. That's how the greatest human advancements are made. We call it Nexus Learning™, aka the "Jefferson X Factor." It means we connect disciplines, establish creative, collaborative, real-world learning environments for our students, and infuse all that we do with the liberal arts.

Nexus Learning™ places Jefferson not just ahead of the curve but way out in front of traditional higher education curricula. With this unique approach to learning, our students and faculty are standing out in their disciplines—winning industry awards on regional, national and even global scales.    
A Global Perspective - Explore the Corners of the Earth
Imagine a campus where you instantly feel connected to the world: Where you work with visiting students from Bangladesh, China, India, Jamaica, South Africa and Spain. Where you have opportunities to study abroad, and travel to England, Japan, Israel or Italy. Where you can volunteer in Rwanda and Honduras. Imagine immersing yourself in global fashion design, international business, or studying within the UK health system.
In an increasingly global academic ecosystem, Jefferson offers many opportunities to leverage our international partnerships and programs that will benefit you and drive important academic, clinical and research innovations. And when you take advantage of any of these opportunities, you give life to Jefferson's mission and vision – to improve lives and 'redefine what's possible' across the globe.
Research at Jefferson: Fusing Discovery, Innovation and Application
Jefferson researchers strive to seamlessly integrate basic scholarship and discovery with translation and application of new knowledge, in disciplines ranging from immunology to design of functional fabrics. In our robust research culture, faculty, students, clinicians and technical staff collaborate in mutually reinforcing efforts to uncover and mine practical impact from new knowledge. We aim to drive next generation solutions, develop new technologies and advance science and medical treatments globally. 
To date, Jefferson researchers have:
Secured 1,000+ patents for new drugs, software innovations, medical devices & diagnostic tools.
Received $87M+ in National Institutes of Health (NIH) funding.
Received $201M in sponsored research awards total. 
9
Connected to Jefferson Health and the largest medical school in the Delaware Valley (Sidney Kimmel Medical College, founded in 1824), the university hospital is nationally ranked by U.S. News & World Report (2022-23) in 9 specialties
Industrious Students, Rewarding Industry Partnerships
While innovation and ideas remain hallmarks of a Jefferson education, our industry partnerships are what bring them to life. We combine Jefferson's traditional coursework with collaborative opportunities with industry leaders in architecture, design, energy, engineering, fashion, medicine, pharmaceuticals, technology, textiles and more. Among many other companies, we've partnered our students on projects to support organizations like IBM, NASA, QVC, Verizon, Johnson & Johnson, Comcast and more. Not bad, huh?

Through these partnerships, students have unprecedented opportunities to learn from industry leaders and apply what you know to the real world. Through our Nexus Learning™ approach to education, we'll help you take on every-day problems that connect you to the realities of modern business, and work with you to refine your ideas with industry leaders that could someday go to market.
That's a Great Idea!
At Jefferson, we nurture the seeds of innovation by providing multi-faceted, integrative experiences that guide you through the process of creating your own entrepreneurial ventures.  Setting yourself apart means honing your skills to succeed as an entrepreneur: learning the fundamentals of starting and operating a business; examining issues in new ways to find creative solutions to real-world problems; prototyping your ideas and more.
Through much of our curricula, led by practitioners, educators and entrepreneurs, we nurture an ecosystem that coaches and guides our students to innovate, experiment and grow. One day, your innovation could be commercialized.