The Sidney Kimmel Medical College at Thomas Jefferson University alumni Bulletin is a quarterly magazine published continuously since 1922. Submit questions and comments to our editor at editor@jefferson.edu.
Board of Trustees Appoints Mark L. Tykocinski, MD, as President of Thomas Jefferson University
Dr. Tykocinski is a biomedical innovator, an educator, and a trailblazer in the world of academia and research.
Smooth Operator
After five decades at Jefferson, Dr. Marion Siegman is both living and preserving its history. "I've always felt that Jefferson is not just a place to work," she says. "It has traditions and a history that one can easily connect to and appreciate—if you know about them."
A Path Towards Digital Equity
Telemedicine is a vital tool in healthcare, but it's leaving some patients behind. Jefferson researchers are on a mission to improve "digital readiness" in under-resourced communities to bridge inequities.
---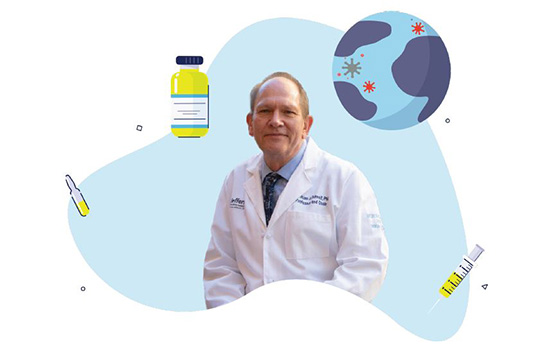 Even During Wartime, His Heart Belongs to Ukraine
Stirred by his heritage, cardiology fellow, Dr. Alex Hajduczok, traveled to Poland to provide medical aid to Ukrainian refugees crossing the border.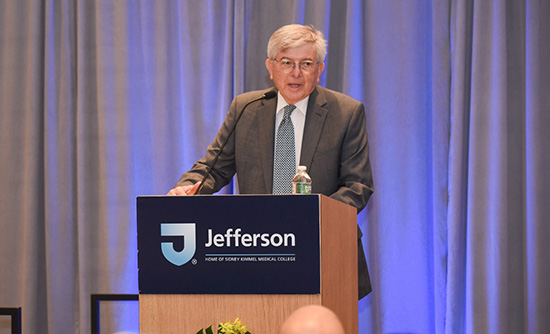 Doctors Feel Hopeful About Restoring Taste and Smell Loss After COVID
The second phase of a clinical trial for patients to regain their sense of taste and smell is showing promising results.
---
Better Late Than Never
Meet the incoming Sidney Kimmel Medical College Alumni Board President, Galicano F. Inguito, Jr., MD '90, MBA.
Dean Winslow, MD '76
Dean Winslow, MD '76, a professor of medicine at Stanford University and senior fellow by courtesy at the Center for International Security and Cooperation, is currently on leave from Stanford while serving as senior adviser to the CDC COVID-19 Testing and Diagnostics Working Group based in Washington, DC. He is also back on active-duty orders with the California State Guard.
Giridhar Vedala, MD '93
Giridhar Vedala, MD '93, has been named vice president and regional chief medical officer at Memorial Hermann The Woodlands Medical Center and Memorial Hermann Northeast Hospital in Humble, Texas.

Lynda Schneider, MD '83
Lynda Schneider, MD '83, was appointed the Sidman Family Chair of Immunology at Boston Children's Hospital. Dr. Schneider is director of the allergy program and of the Division of Immunology Clinical Research Program at Boston Children's Hospital; founder and director of the Atopic Dermatitis Center; and professor of pediatrics at Harvard Medical School.
Share your story!
Where have you been? What have you been up to? Tell us what's new—jobs, weddings, moves across the country. Share your story with fellow alumni by submitting a Class Note for an upcoming issue of The Bulletin.