The Sidney Kimmel Medical College at Thomas Jefferson University alumni Bulletin is a quarterly magazine published continuously since 1922. Submit questions and comments to our editor at editor@jefferson.edu.
Gray Matter
Bringing ethics education out of the classroom and to the bedside is the only way we can expect the next generation of physicians to develop the skills to cope with the complex ethical problems they will face today and the novel problems of the future.
Jefferson Reflects on Nearly 50 Years of Physician Shortage Area Program
The initiative works to increase the supply and retention of physicians in rural areas.
The Honickman Center: Reimagining the Patient Experience
Jefferson is pleased to announce a life-changing—and life-saving—$50 million gift from Lynne and Harold Honickman and their children Marjorie and Jeffrey Honickman and Shirley and Richard Hahn, in support of its new 19-story medical building rising at 11th and Chestnut streets in Philadelphia.
Stress, Obesity, & Pancreatic Cancer
A common response to cellular stress may be the key to pancreatic cancer in people with obesity, pointing to new therapy for this difficult-to-treat cancer.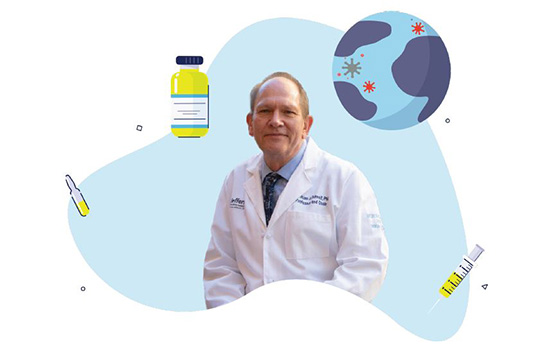 The Power of Empowerment
Inspired by her classmates' diverse backgrounds, Geetinder Chattha, MD '87, and her husband established the Chattha Family Scholarship Fund to support deserving medical students, leaving a philanthropic legacy for future generations of compassionate clinicians.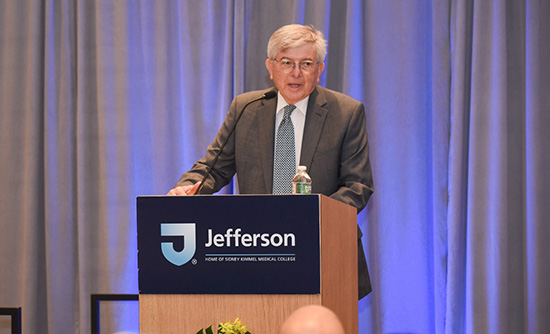 Match Day 2023
In one of the most thrilling moments on the Sidney Kimmel Medical College calendar, members of the Class of 2023 tore open their envelopes in unison to see where they would complete their residencies.
Joel M. Barish, MD '68
Joel M. Barish, MD '68, is enjoying his retirement in San Francisco, where he is a voluntary clinical professor at the University of California and relishes the student and faculty contacts. He makes an annual trip to the East Coast, as walking on the streets of Philadelphia brings back so many happy memories. He looks forward to his 60th-year reunion...if he still has a pulse, he'll be there.

Jennifer Lynne Delozier, MD '94
Jennifer Lynne Delozier, MD '94, retired in January to write full-time as the award-winning author J.L. Delozier. Her fifth novel, a Gothic murder mystery titled The Photo Thief, was published in October and has been touted by Lisa Gardner as "a riveting thriller with a spine-tingling edge."

Michelle Ponder, MD '18, and Douglas Hilbert, MD '18
Michelle Ponder, MD '18, and Douglas Hilbert, MD '18, married in Baltimore, MD, on September 18, 2022. They were joined by many of their best friends from their medical school class, including Mario Fonseca-Paricio, Tony Kang, Lea Matthews, Evan Nardone, Katelyn Scharf, Ashley Traczuk, Jetmir Vojnika, and Kevin Walsh.

Share your story!
Where have you been? What have you been up to? Tell us what's new—jobs, weddings, moves across the country. Share your story with fellow alumni by submitting a Class Note for an upcoming issue of The Bulletin.