Center City Campus Self-Guided Tour
A New Way to Visit Jefferson
We understand that you may be worried about joining us for a formal on-campus information session and student guided tour due to COVID-19 concerns. We also know how important it is to physically visit campuses during the college search process, so we created our self-guided tour option.
During this interactive experience, you will have the opportunity to explore campus and hear from our students, faculty and staff through pre-recorded videos and messages.

This self-guided tour is intended for undergraduate transfer, undergraduate second-degree seeking, and graduate students interested in our Health and Science programs. If you're interested in the Sidney Kimmel Medical College, contact SKMC.Admissions@jefferson.edu for more information.
Pre-Registration
We invite you to explore campus at your own pace through our self-guided tour. Pre-registration is available but not required. 
Self-Guided Tour Registration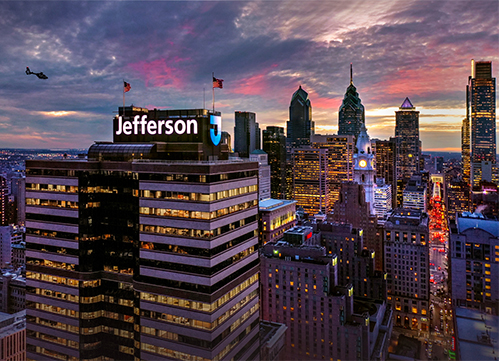 About Our Center City Campus
Philadelphia is the sixth largest city in the United States and is home to historical sites, museums, and a thriving food, music and arts scene – not to mention a large population of college students. Our Center City Campus is rooted in the center of this vibrant city, and has been since 1824.
Health & Safety
At this time, we are only able to offer on-campus visits to Pennsylvania residents per the state's mandated quarantine guidelines. An exception can be made if you provide the results of a negative COVID-19 test administered within three days of your visit. If you live outside of Pennsylvania, you may be interested in our Virtual Visit opportunities.
Every visitor to campus is required to adhere to the following health & safety guidelines; guests who do not comply will be asked to leave campus. If you are unable to comply with the standards below, we are happy to meet with you virtually.

Wear a mask at all times (gaiters, bandanas, and scarves are not permitted).
Maintain proper social distance (6 feet) from anyone outside of the group you traveled to Jefferson with.

Stay home if experiencing the following symptoms per Jefferson Occupational Health Network (JOHN):

One of the following:

Cough
Shortness of breath or difficulty breathing

OR two (2) of the following:

Fever (>100.0)
Chills
Muscle pain
Headache
Sore throat
New loss of taste or smell
Congestion or runny nose
Nausea or vomiting
Diarrhea

Stay home if exposed to someone with a positive COVID-19 diagnosis within the last 14 days.
Visit campus at another time if you've visited any state listed on the Pennsylvania or New Jersey hotspot lists without having had quarantined for 14 days:
Thomas Jefferson University takes your health and safety seriously. COVID-19 is highly contagious and capable of widespread person-to-person transmission. While you visit our campus, you must follow the stated health & safety guidelines. Based on the nature of the coronavirus, Jefferson cannot guarantee that you will not be exposed COVID-19 as a result of your time on our campus.
We are thrilled that you are interested in Jefferson and note that your visit is entirely voluntary.  
Digital Downloads
Below are helpful resources as you plan your visit to campus.