Troy Hannigan, Associate AIA, SEED
Director & Practice Assistant Professor- MS in Real Estate Development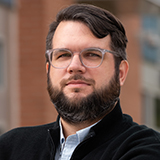 Contact
SEED Building, Office 120
4201 Henry Avenue
Philadelphia, PA 19144
Troy Hannigan, Associate AIA, SEED
Director & Practice Assistant Professor- MS in Real Estate Development
Areas of Specialization
Real Estate Development
Affordable Housing
Urban Revitalization
Community Development
Education
M.A, Urban Studies, Eastern University
B.Arch, Philadelphia University
Troy Hannigan is Practice Assistant Professor and Program Director of Jefferson's MS in Real Estate Development program. Mr. Hannigan has taught Real Estate Development at Jefferson as an adjunct professor since 2017 and joined as Program Director in 2020. He received a M.A. in Urban Studies with a concentration in community development from Eastern University and a Bachelor of Architecture degree from Philadelphia University (now Jefferson). 
In addition to his role at Jefferson, Mr. Hannigan is Program Director at Community Ventures, a Philadelphia-based non-profit real estate developer with the mission to work in partnership with neighborhood-based organizations to improve communities and to increase the supply of affordable housing. At Community Ventures, he oversees the organization's real estate programs including neighborhood development, affordable housing, and investment in parks, recreation centers and libraries. During his time with CV, he has worked on over $77 million in real estate projects all focused on the quadruple bottom line (people, planet, profit and placemaking) including affordable homeownership developments, Low-Income Housing Tax Credit (LIHTC) rental developments, permanent supportive housing developments, green space and civic assets.
Mr. Hannigan began his work in real estate and affordable housing while working for Habitat for Humanity Philadelphia as project manager and an AmeriCorps member. Throughout his career, he has worked in various aspects of architecture, construction, real estate and community development.  His work has focused on building quality, sustainable, affordable housing through a community informed design process. He has managed single-family developments, complex mixed-use, multi-family housing developments and civic assets from conception through occupancy with budgets ranging from $140,000 to $21 million. 
Mr. Hannigan has been an active member of the local Philadelphia architecture, sustainability and community development communities including the American Institute of Architects, Urban Land Institute, Philadelphia Association of Community Development Corporations, and Green Building United.  He received the 2014 Philadelphia Association of Community Development Corporation's Rising Star Award for Innovative Leadership and Excellence, the 2015 Philadelphia University Young Alumni Achievement Award, and the 2015 AIA Pennsylvania Associate Award. Troy is a SEED (Social Economic Environmental Design) certified professional. He previously served on the board of directors and as Treasurer of AIA Philadelphia and the Center for Architecture and Design.  
His interests in architecture and real estate development include energy efficiency, affordability, accessibility, visitability, universal design, aging-in-place, passive house, healthy materials, and the living building challenge.