R. Kihong Ku, DDES
Associate Professor, Design Technology and Architectural Innovation, Adaptive Envelopes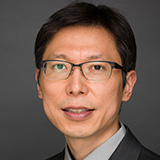 R. Kihong Ku, DDES
Associate Professor, Design Technology and Architectural Innovation, Adaptive Envelopes
Areas of Specialization
Architecture, Digital Fabrication, Visualization, and Design
Education
DDes, Harvard University Graduate School of Design
MA, Design Studies, Harvard Graduate School of Design
MS, Engineering (Architecture), Seoul National University
BS, Engineering (Architecture), Seoul National University
Academic Interests
Dr. Kihong Ku concentrates on emerging design technologies and studies the impact of technologies on the building and design process. His research focuses on how design technology changes, facilitates, and improves concept design and design development processes, and explores opportunities through integrated design that supports innovative material strategies and performative design practices. Recent work includes research on textile material strategies for building envelopes, Building Information Modeling (BIM) for design for safety practices, and near- and on-site fabrication approaches. His research has been funded by various public and private funding entities including NCARB, NIOSH, Skanska USA Building, the Research Affiliates Program at Virginia Tech, and Philadelphia University.
He teaches and coordinates studio, lecture, seminar/workshop courses, including fifth year digital methods studios on textile material strategies, healthcare and architecture, algorithmic and responsive architecture. He also teaches courses that cover digital modeling, advanced modeling, experimental modeling, digital fabrication, construction detailing and integrated project documentation. He is also program director of the IDEA (Interdisciplinary Design and Experimental Architecture) Studio (www.ideastuDO.com) which was funded by a 2015 NCARB Award.
Dr. Ku received a Doctor of Design and Master in Design Studies degree from the Harvard University Graduate School of Design, and Master of Science and Bachelor of Science in Engineering (Architecture) degrees from Seoul National University, Korea. Prior to joining Philadelphia University, Dr. Ku was a building construction professor for six years at Virginia Tech. He is a registered architectural engineer in South Korea and worked as an architectural engineer and designer on commercial, residential, and industrial projects. In recognition of his teaching and scholarship he was awarded the 2016 President's Award for Teaching Excellence at Philadelphia University, the 2011 XCaliber Award by the Center for Innovation in Learning at Virginia Tech and 2011 Excellence in Outreach Award from the College of Architecture and Urban Studies at Virginia Tech.