Lisa Phillips, IIDA, NCIDQ
Associate Professor - Interior Design & Interior Architecture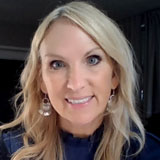 Contact
Architecture & Design Center Room 206

Lisa Phillips, IIDA, NCIDQ
Associate Professor - Interior Design & Interior Architecture
Areas of Specialization
Education
MEd, Temple University
BArch, Temple University
Lisa Phillips, NCIDQ, began teaching as an adjunct professor in 2001 in the College of Architecture and the Built Environment before she joined the university full time in 2007, as a full-time faculty member. She has taught design studios at all levels, visualization courses, capstone research and programming, a community service course and study abroad opportunities that have taken students to Italy, Austria, Germany, France, Spain, and India. Lisa is passionate about service projects and she has organized dozens of hands-on learning opportunities to encourage students to work with real clients and budgets while strengthening ties with local communities.
Ms. Phillips' research is centered around student learning and human centric issues that directly affect education. Topics related to andragogy include: collaboration, motivation, & assessment.  A strong theme throughout her work includes the incorporation of technology to aid in these processes. Professor Phillips also has presented and published on topics aligning with environmental psychology and how the study of both human-made and natural spaces and materials influence users. She is interested in how sensory input specifically impacts emotional experiences.  
Ms. Phillips has gained much recognition for her work. She received the 2022 Lindback Award for Distinguished Teaching, was presented with a 2019 Interior Design Educator's Council (IDEC) Service Award, she was named one of DesignIntelligence's 25 Most Admired Educators for 2017-18, and received the 2017 Philadelphia University Roydhouse Teaching Innovation Award.