Mark Purcell, AIA, CCM, LEED AP
Adjunct Professor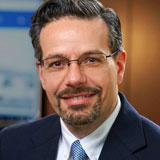 Mark Purcell, AIA, CCM, LEED AP
Adjunct Professor
Areas of Specialization
Education
BArch, University of Notre Dame
Mark Purcell is a 20 year veteran in the design and construction industry with a unique blend of experience, having worked for design firms, a real estate developer, government agencies and construction companies.  He is a NCARB board-certified architect registered in several states and is a certified construction manager recognized by the Construction Management Association of America.
He specializes in multi-million dollar construction projects for commercial, institutional, government, justice, and higher-education clients with a focus on integrating sustainable design concepts into building programs. He is also co-founder and Past President of the Delaware Valley Green Building Council and is a LEED Accredited Professional.
In addition to teaching contract law for the graduate program in construction management at Philadelphia University, he has guest lectured to architecture students at Drexel University's Westphal College and teaches adult education courses for the Associated Builders & Contractors trade association.
He is active in various organizations including the American Institute of Architects, Society of College and University Planners, National Peace Corps Association, and is past Chair for the Westtown Township Planning Commission in Chester County, PA.