Tya Winn, NOMA, SEED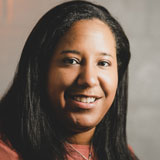 Contact
4201 Henry Avenue
Philadelphia, PA 19144
Tya Winn, NOMA, SEED
Areas of Specialization
Real Estate Development
Affordable Housing
Creative Placemaking
Urban Revitalization
Community Development
Education
M.Arch, University of Pennsylvania
B.Arch, Syracuse University
Tya Winn is an advocate for affordable housing and community development in Philadelphia. In 2020, She joined the Community Design Collaborative as Executive Director after serving as Director of Project Planning & Design for Habitat for Humanity in Philadelphia where she serves as project manager for acquisition, design, and permitting phases of their projects. She also works on affordable housing policies with local civic organizations.
Tya is interested in the urban fabric of inner city communities and finding ways to use design to uplift, restore and rebrand these communities. She previously worked at the Philadelphia Housing Authority and the Logan Community Development Corp, so her knowledge and experience working with community groups, real estate developers and nonprofits runs very deep.
She has focused her career on real estate and community development; prioritizing affordable housing creation, economic development, creative place-making and urban revitalization. Her work in the public sector has included the project management of a comprehensive neighborhood revitalization plan, Make Some Noise Logan! and the master planning of the Logan Triangle Site in northern Philadelphia. Tya conceptualized the Logan Parklet, which was part of the City of Philadelphia's Parklet Pilot Program and was the 2014 Philadelphia Association of Community Development Corporations (PACDC) Blue Ribbon Award Winner for outstanding community development projects. She has presented on her work at Design Philadelphia and at national conferences.
Ms. Winn is also an Adjunct Professor at the Tyler School of Art and Architecture at Temple University and an Adjunct Professor in the MS in Real Estate Development program at Thomas Jefferson University.
In her free time, she stays active in the design community. She currently serves as President of the Philadelphia Chapter of the National Organization of Minority Architects (PhilaNOMA). She has served as Camp Coordinator for PhilaNOMA's Project Pipeline, a summer camp designed to expose youth to architecture and sustainability since 2012. She sits on the Board of Directors of AIA Philadelphia and is co-chair of the 2016 AIA Convention Legacy Project, which is a dedication of the local chapter to increasing STEM offerings related to architecture and ensuring Philadelphia youth are exposed to design. She is also one of the leaders of Jumpstart West Philly.
Tya studied architecture at Syracuse University and received a Master of Architecture degree specializing in Urban Design at the University of Pennsylvania. She is focusing her practice on the revitalization of urban communities and how experience of the built environment shapes perceptions of place.