Kathryn Gindlesparger
Associate Professor of Writing and Rhetoric & Director of the Writing Program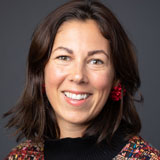 Kathryn Gindlesparger
Associate Professor of Writing and Rhetoric & Director of the Writing Program
Education
PhD, English - Rhetoric, Composition, and the Teaching of English, University of Arizona (2010) 
MA, English - Rhetoric, Composition, and the Teaching of English, University of Arizona (2005) 
BA, English, Minor; Women's Studies, University of Illinois, Urbana-Champaign (2003)
Publications
Gindlesparger, Kathryn J. "'Share Your Awesome Time with Others': Interrogating Privilege and Identification in the Study Abroad Blog." College English, vol. 81, no.1, 2018, pp. 7-26.
Gindlesparger, Kathryn J. and Holly Ryan. "Feminist Fissures: Navigating Conflict in Mentoring
Relationships." Peitho: Journal of the Coalition of Feminist Scholars in the History of
Rhetoric and Composition, vol. 19, no. 1, 2017, pp. 54-69.
http://peitho.cwshrc.org/files/2017/01/19.1_Gindlesparger-and-Ryan_FINAL.pdf
Gindlesparger, Kathryn J. "Introduction to Activism: Rhetoric, Social Justice, and
Professionally-Oriented Students." Peace Studies Journal, vol. 9, no. 1, 2016, pp. 107-119.
http://peacestudiesjournal.org/volume-9-issue-1-march-2016/
Gindlesparger, Kathryn J. "Snapshot of a Tenure Decision." Writing Program Administration,
vol. 35, no. 1, 2011, pp. 152-155. http://wpacouncil.org/archives/35n1/35n1symposium.pdf
Gindlesparger, Kathryn J. "The Sadder the Story, the Bigger the Check: Reciprocity as 
an Answer to Organizational Deficit Models." Community Literacy Journal, vol. 5, no. 1, 2010, 91-105.
http://www.communityliteracy.org/index.php/clj/article/view/115
Certifications
Certificate in Youth Development, The University of Arizona, 2008
Research Interests
Dr. Gindlesparger's research interests include the rhetorical and affective dimensions of administration, mentoring, and professional identity development. She is currently working on an ethnography that explores the embodied rhetorical practices of women as administrators. Gindlesparger's work has appeared in College English, Peitho, Writing Program Administration, the Peace Studies Journal, and the Community Literacy Journal.