Guangzhi Huang, PhD
Director of Interdisciplinary Studies
Assistant Professor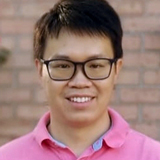 Contact
302 Search Hall
Philadelphia, PA 19144
Guangzhi Huang, PhD
Director of Interdisciplinary Studies
Assistant Professor
Education
PhD, American Studies, University at Buffalo, Buffalo, NY, 2018
MA, American Studies, St. Louis University, St. Louis, MO, 2009
BA, Advanced Translation, Guangdong University of Foreign Studies, Guangzhou, Guangdong, China, 2006
Research & Clinical Interest
My research interest lies in the intersection of race and urban growth in contemporary China. Specifically, I investigate the disbanding of African communities in Guangzhou and its connection to China's mode of urban development, which shows heavy influence by the West and whiteness. 
Publications
Haugen, Heidi, & Guangzhi Huang, "Becoming Sanfei: The Irregularization of Foreign Migrants in China", Critical Handbook on Irregular Migration, Edward Elgar (forthcoming in 2023)
Huang, Guangzhi, "Foreigner in China: Economic Transition and the Chinese State's Vision of Immigration and Race", Made in China, no. 2, 2021.
Huang, Guangzhi, "Conflating Blackness and Rurality: Urban Politics and Social Control of Africans in Guangzhou, China", Journal of Contemporary Eastern Asia, vol. 19, no. 2, 2020, pp. 148-168
Huang, Guangzhi, "Cleaning up Guangzhou's African enclave: A historical Perspective." Asia Dialogue, Aug 28, 2019. https://theasiadialogue.com/2019/08/28/cleaning-up-guangzhous-african-enclave-a-historical-perspective/
Huang, Guangzhi, "Policing the Blacks in Guangzhou: How Public Security Constructs Africans as Sanfei." Modern China, vol 45, no. 2, 2019, pp. 171-200.
Huang, Guangzhi, "Sanfei Blacks – How the Chinese State Constructs Africans as Dangerous Illegals." The Long Struggle: Discourses on Human and Civil Rights in African and the Africa Diaspora. (Austin, Tx: Pan-African University Press, 2017). 
Media Coverage
Devermont, Judd, & Travis Adkins, "Race and Diplomacy", Africa Program at the Center for Strategic and International Studies (CSIS), Nov 10, 2020. https://www.youtube.com/watch?v=n9NXyoXYNl8&t=360s
Allen-Ebrahimian, Bethany, & Dave Lawler. "Complaints of racism mar China's global image", Axios, Apr 15, 2020.  https://www.axios.com/coronavirus-racism-discrimination-africa-china-326de397-a3f9-4993-9c8b-1dd303b593db.html  
Su, Alice.  "'No blacks': Evicted, harassed and targeted in China for their race amid coronavirus", Los Angeles Times, Apr 16, 2020.  https://www.latimes.com/world-nation/story/2020-04-16/china-coronavirus-black-african-evictions
Seminars & Conference
"Anti-Black Racism in China: Temporal and Geographical Specificities and Connections", Mid-Atlantic Region Association for Asian Studies (MARAAS) Conference, Philadelphia, PA, Oct 2022
"Conflating Blackness and Rurality: Urban Politics and Social Control of Africans in Guangzhou", New York Conference on Asian Studies (NYCAS), Brockport, NY, Oct 2021
"Global Systemic Racism Conference and Book Project at (Virtual) Berkeley Law", University of California, Berkeley, Sep 2021
"Inter-Asia Cultural Studies Society Virtual Conference", Inter-Asia Cultural Studies Society (IACSS), Singapore, July 2021
Panelist in "Interactions between African Migrant Workers and Law Enforcement in China", The Society for Chinese Law and Black Voices on Greater China at Columbia Law School, Nov 18, 2020
"A Global City without Blacks: How Guangzhou Evicted African Traders in its Urban Development", World History Association (WHA) Annual Conference, 2019 Puerto Rico, San Juan, Jun 2019
"Astute Planners: How Urban Villagers in Guangzhou Converted Their Neighborhood into an African Market", International Planning History Society (IPHS) Annual Conference, 2018. Yokohama, Japan, Jul 2018