Teishan A. Latner, PhD
Associate Professor of History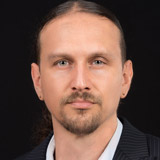 Contact
4201 Henry Avenue
Philadelphia, PA 19144
Teishan A. Latner, PhD
Associate Professor of History
Education
PhD, University of California, Irvine 
Selected Publications
Research Interests
Teishan Latner completed his PhD at the University of California, Irvine. A scholar of the United States with a secondary emphasis on Cuba and Latin America, Professor Latner's research lies at the intersections among history, global American Studies, and Cuban Studies, with special emphasis on social movements, race/racial justice, political theory, globalization, U.S.-Cuba relations, and U.S. foreign policy.
His first book, Cuban Revolution in America: Havana and the Making of a United States Left, 1968-1992, was published by the University of North Carolina Press in 2018 for the Justice, Power, and Politics book series. Latner's research has been published in peer-reviewed journals such as Diplomatic History, SOULS: a Critical Journal of Black Politics, Culture, and Society, and the Journal of Transnational American Studies, and garnered mention in BBC Mundo, the Miami Herald, the Philadelphia Inquirer, and the Washington Post.
At Jefferson, Professor Latner teaches topics in American Studies, an interdisciplinary course series examining the historical origins of contemporary social and political issues that is required for all incoming freshmen, and Global Economy: Power, Poverty, and Policy.
Latner was a Postdoctoral Fellow at New York University's Center for the United States and the Cold War (2014), and a Research Associate at the Center for Black Studies Research at the University of California, Santa Barbara (2015). His research has been supported by the Society for Historians of American Foreign Relations, the UC-Cuba Academic Initiative, and Thomas Jefferson University. Prior to coming to Jefferson, Latner taught at California State University, Los Angeles, and the University of California, Los Angeles.