Marilisa Navarro, PhD
Assistant Professor of African American Studies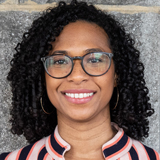 Contact
East Falls Campus
4201 Henry Avenue
Philadelphia, PA 19144
Marilisa Navarro, PhD
Assistant Professor of African American Studies
Focus Areas
Critical ethnic studies and American Studies, African American Studies, popular culture and representations, cultural studies and critical discourse analysis, community engagement
Education
PhD, Ethnic Studies, University of California, San Diego (2017)
MA, Sociology, San Diego State University (2008)
BA, Journalism and Mass Media Studies, Rutgers University (2002)
MA, San Diego State University
Publications
Navarro, Marilisa. 2021. "Blackness and Food Resilience: Black culinary epistemologies, the slow food movement and racial justice." The Journal for Food, Culture and Society. Expected paper publication: April 2022 issue.DOI: 10.1080/15528014.2021.1884453

Navarro, Marilisa. 2021. Radical Recipe: Veganism as Anti-Racism in Handbook of Vegan Studies: Routledge Press.

Navarro, Marilisa. 2020. "Refugee Community Gardens and the Politics of Self-Help" (review). Amerasia.

Navarro, Marilisa. 2018. More than Just Food: Food Justice and Community Change (book review). Food and Foodways.
Esbenshade, Jill, Micah Mitrosky, Erica Morgan, Marilisa Navarro, Matthew Rotundi, and Cynthia Vasquez.  2006. "Profits, Pain and Pillows: Hotels and Housekeepers in San Diego." WorkingUSA: The Journal of Labor and Society 9(3):265-292.
Research Interest
Dr. Navarro's research interest lies at the intersection of critical ethnic studies, representations, and critical food studies. She analyzes how food is a site where racial identities are constituted, lived, expressed, and challenged. She looks at both representations and lived experiences to understand how power and meaning are negotiated.
At Jefferson, Dr. Navarro currently teaches the following courses: African American Studies, Race in America, and Topics in American Studies.