Jenna Rieder
Assistant Professor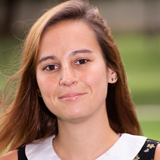 Contact
Downs Hall 24
4201 Henry Avenue
Philadelphia, PA 19144
Jenna Rieder
Assistant Professor
Research Interest
Dr. Rieder's research has focused on physiological stress system function in chronically stressed and trauma exposed people. She is especially interested in physiological factors unique to women (e.g., hormone fluctuations) that influence stress reactivity and affective experiences, and potentially impact risk for psychopathology. A recent project tested interactions between the sex hormone estradiol and stress reactivity, as well as menstrual cycle variability in post-trauma symptoms, in a sample of women who had experienced traumatic life events. Her research has also considered how persistent differences in brain function and stress reactivity, even in safe or non-threatening situations, relate to post-trauma symptoms.
Education
PhD, The Graduate Center, The City University of New York, NY (2019
BA, Vassar College, Poughkeepsie, NY (2011)
Publications
Scopus Feed has no publications.