Tom Schrand
Associate Dean for General Education & Professor of History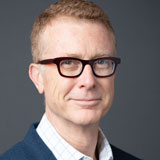 Contact
205 Ravenhill Mansion
Philadelphia, PA 19144
215-951-2610
215-951-6888 fax
Tom Schrand
Associate Dean for General Education & Professor of History
Education
PhD, History, University of Michigan (1994) 
MA, Russian and East European Studies, University of Michigan (1989) 
BA, International Studies, Emory University (1985)
Featured Publications
Reflecting on Reflections: Curating ePortfolios for Integrative Learning and Identity Development in a General Education Senior Capstone.  International Journal of ePortfolios. Vol. 8, No. 1, 2018 (with Valerie Hanson and Katharine Jones)
Design Thinking as a Strategy for Consensus in General Education Reform, Peer Review, Summer 2016, Vol. 8, No. 3. 
Awards
Lindback Award for Teaching, Philadelphia University, 2004 
President's Distinguished Teaching Award, Philadelphia University, 2001
Research Interests
My research interests have evolved over the course of my career, moving from studies of the gendered divisions of labor in Stalinist Soviet Russia, to pedagogical research with a focus on peer review practices and curriculum development, to a current project examining the role of equity and utopianism in sustainability thinking.
Focus Areas
Curriculum development, sustainability education, sustainability, equity, sustainability theory, utopian thought, gender history, labor history, pedagogy, general education, electronic portfolios, active learning