Soha Youssef, PhD
Assistant Professor, Writing and Rhetoric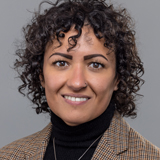 Contact
4201 Henry Avenue
Philadelphia, PA 19144
Soha Youssef, PhD
Assistant Professor, Writing and Rhetoric
Focus Areas
Critical Pedagogy, Assessment, Rhetorical Grammar, Writing about Writing, Transfer Theory, Meaning Negotiation
Education
PhD, English, Rhetoric and Writing, Bowling Green State University (2018) 
MA, English, Composition and Rhetoric, Eastern Illinois University (2014) 
MA, English, TESL and Linguistics, Oklahoma State University (2011)
Publications
Soha Youssef. "Undergraduate Students' Perceptions on Student Evaluation of Teaching (SET): Implications of Meaning Negotiation as Critical Pedagogy." Journal of the Scholarship of Teaching and Learning (JoSoTL). Revise and resubmit.  
Soha Youssef. "International Teaching Assistants' (ITAs) Needs and Undergraduate English-Speaking Students' (NESSs) Expectations: Meaning Negotiation as a Rhetorical Strategy." In Threshold Conscripts: Rhetoric and Composition TAships. Eds. William J. Macauley, Jr., Leslie R. Anglesey, Brady Edwards, Kathryn Lambrecht, and Phillip Lovas. Perspectives on Writing series. WAC Clearinghouse. In Progress.  
Soha Youssef. "Self-Reflexivity is/as Resistance." In Studies in Writing & Rhetoric (SWR) Series: Recollections from an Uncommon Time: 4C20 Documentarian Tales. Eds. Julie Lindquist, Bump Halbritter, and Bree Straayer-Gannon. (In print-Release date: March 2022)
Soha Youssef. "Sett bmit ragel 'A Woman as Good as 100 Men:' An Arab Woman's Narratives on Discrimination in and outside Academia." In Degrees of Difference: Reflections of Women of Color on Graduate School. Eds. Kimberly McKee and Denise Delgado. University of Illinois Press. (Spring 2020)
Soha Youssef et. al. "My Mundane Professional Life." Composition Studies. (Spring 2019) 
Soha Youssef. "Meaning Negotiation in International Teaching Assistant Preparation Classes." During Office Hours: Teach, Share, Learn. (Summer 2017): online. 
Caleb James, Lee Nickoson, Adam Sprague, and Soha Youssef. "Whereing Identities: Teaching Writing as Community-based Practice." Ohio Journal of English Language Arts. (Fall/Winter 2016). 56(2): online. 
Sara Austin, Danielle Donelson, Lauren Garskie, Kristin LaFollette, Kelly Moreland, Stephen Oheni-Larbi, Stephen Raulli, Joseph Robertshaw, Marshall Saenz, Lauren Salisbury, Sue Carter Wood, and Soha Youssef. "Literacy Artifacts: Preserving Tools, Methods, and Teachers' Technologies of the Long Nineteenth Century." Bowling Green State University Student Digital Gallery. (Fall 2016): online. 
Soha Youssef. "CEAO Presentation: A Reflection." Rhetoric and Writing Notes. (Spring 2016): online. 
Soha Youssef. "Timeline JS Review." Computers and Composition Online. (Fall 2015): online. http://cconlinejournal.org/fall15/youssef/
Certifications
Translation Studies, American University in Cairo, 2006
Awards
Thomas Jefferson University Award for Outstanding Teaching (Fall 2021)
Nominated for the Excellence in Teaching Award at the college level (Spring 2021)
Dissertation Research Fellowship ($14,000), 2017
Women's, Gender, & Sexuality Studies (WGSS) Essay Contest (First place $125), 2017
Nominated by the English Department for Graduate Student Teaching Award, 2015
CCCC PEP Grant ($315), 2014
Distinguished International Student Award, Eastern Illinois University, April 2014
Research Interest
Youssef's research interests center around locating intersections between rhetoric and TESOL. More specifically, she is passionate about rhetorically preparing graduate and undergraduate English language learners in a way that eases their transition to the North American academy. She further examines the effectiveness of such rhetorical preparation in informing students' growth as writers.