Lucia R. Languino, PhD
Professor, Department of Cancer Biology
Director, Genetics, Genomics, and Cancer Biology PhD Program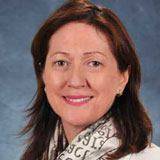 Contact
233 South 10th Street
Suite 506
Philadelphia, PA 19107
Featured Links
Lucia R. Languino, PhD
Professor, Department of Cancer Biology
Director, Genetics, Genomics, and Cancer Biology PhD Program
Research and Clinical Interests
Studies of the signaling pathways that contribute to prostate cancer progression and metastasis.
Dr. Languino investigates the role of cell adhesion receptors in phenotypic changes of prostate cancer cells. A strong research focus is being devoted to the study of the cross-talk between cell adhesion molecules, extracellular matrix proteins and growth factor receptors in vitro and in vivo systems and how this cross-talk affects intracellular signal transduction, cell survival, cell migration and cell division. Dr. Languino's research interests also focus on the cellular and molecular characterization of the metastatic process of prostate cancer with particular emphasis on the signals directing distant localization of prostate cancer cells
Publications
Scopus Feed has no publications.