Takami Sato, MD, PhD
K. Hasumi, MD Professor in Medical Oncology, Department of Medical Oncology
Director, Metastatic Uveal Melanoma Program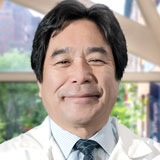 Contact
925 Chestnut Street
Suite 320A
Philadelphia, PA 19107
Featured Links
Takami Sato, MD, PhD
K. Hasumi, MD Professor in Medical Oncology, Department of Medical Oncology
Director, Metastatic Uveal Melanoma Program
Expertise & Research Interests
Medical Oncology, Melanoma, Skin Cancer, Uveal Melanoma, Ocular Melanoma, Cancer Immunotherapy
As director of the Metastatic Uveal Melanoma Program at Jefferson, Dr. Sato heads one of the few programs in the United States treating melanoma originating in the eye. Although uveal melanoma is the most common adult eye tumor, the disease is very rare, affecting only six or seven people per one million. This cancer commonly spreads to the liver, and patients who do not receive treatment live an average of six months. Dr. Sato has devoted his career to improving understanding of this disease and developing new treatments, particularly for patients who are not eligible for surgery.
Dr. Sato's studies focus on cancer immunotherapy, or the use of the immune system to fight cancer. His clinical trials involving a procedure called immunoembolization have shown promising results.
In immunoembolization, a chemical to stimulate patients' immune systems is administered to the hepatic artery that feeds the liver tumor and then the artery is blocked, cutting off oxygen to tumors and keeping the injected medicine in the tumor. In one trial, one-third of patients had tumor shrinkage, and another third experienced no tumor growth. Dr. Sato is building on these outcomes as he continues to examine methods of treating uveal melanoma and delaying its progression.
Publications
Scopus Feed has no publications.