Contact
Department:
Office of Admissions
Dr. Kathryn Shaffer Selected as Distinguished Fellow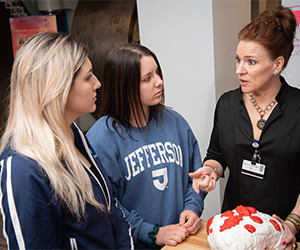 Dr. Kathryn Shaffer, EdD, RN, MSN, CNE, CCFP, was selected as a Distinguished Fellow of the National Academies of Practice in Nursing. This honor recognizes Dr. Shaffer's outstanding achievements in nursing. Dr. Shaffer will be inducted into the Class of 2021 Fellows in March at the National Academies of Practice 40th Annual Meeting. 
Dr. Shaffer is an Associate Professor for the Jefferson College of Nursing. 
When asked about the significance of recieving this selection, Dr. Shaffer shared "I am humbled to be accepted into this Distinguished group of professionals who are advancing interprofessional healthcare.  They are committed to fostering collaboration and advocating for policies in the best interest of individuals and communities."
Dr. Shaffer continued, "I have always supported interprofressional education and practice since 2007, when I first joined JCN.  Over the years, my passion for compassionate, holistic, and not only interprofessional, but transdisciplinary care has only made me a stronger advocate for people I engage with along the life and care continuum.  That can't be done alone, in a silo, or in one care setting.  The National Academies of Practice will foster my growth in being more of an advocate for individuals and communities."