Contact
Department:
Office of Admissions
FACT-1 Students Volunteer at Community Vaccine Clinic
On Monday, February 15, eight Jefferson College of Nursing FACT-1 students volunteered at the first "soft roll out" community vaccine clinic at the Pennsylvania Convention Center. The participating students served in the roles as Observers or Naviagtors. The students were guided by Assistant Professor Maureen Fitzgerald, EdD, MSN, RNC-NIC.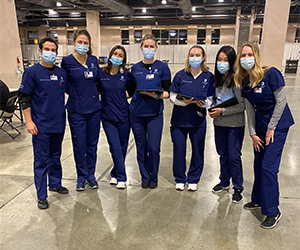 FACT-1 student volunteers at the Pennsylvania Convention Center
FACT-1 student Dakota Roman expressed his gratitude for having the opportunity to participate in the event with Dr. Fitzgerald.
Roman stated, "Thank you for guiding the students today and facilitating our service for our patients. Today was my first time volunteering for Jefferson and it made me not only proud to be a part of the Jefferson enterprise but also of becoming a nurse as well. What we did today and the teamwork that I witnessed was just another reminder of why I want to serve others as a Jefferson student and employee."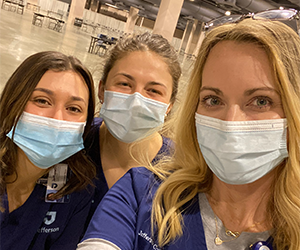 Dr. Fitzgerald with student volunteers at the Pennsylvania Convention Center
For Dr. Fitzgerald, the experience resonated as "a remarkable time in history." Fitzgerald continuted, Our student nurses are yearning for opportunities to participate in service to patients and the community, now more than ever in the pandemic. They were part of a collaborative team making an impact in society. I am proud to see our student nurses displaying the values of the College. We were celebrating those patients who have been waiting a year to take this powerful step towards hope for a better tomorrow."