Donald E. Casey, Jr., MD, MPH, MBA, FACP, FAHA, DFAAPL, CPE, DFACMQ
Lecturer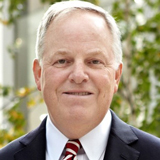 Contact
901 Walnut Street
10th Floor
Philadelphia, PA 19107
215-503-0174
215-923-7583 fax
Donald E. Casey, Jr., MD, MPH, MBA, FACP, FAHA, DFAAPL, CPE, DFACMQ
Lecturer
Research & Practice Interests
Accountable Care and Clinical Integration Via Risk- and Value-Based Contracting
Clinical Practice Guidelines and Performance Measurement Development and Implementation
Quality Outcomes Measurement and Improvement
Physician/Medical Staff Leadership and Accountability
Population Health Management for Chronic Illnesses
Education
MD, University of Cincinnati
MBA, University of Pennsylvania
MPH, Johns Hopkins University
Publications
Residency
Internal Medicine, Rush Presbyterian St. Lukes Medical Center
Board Certification
Teaching
Introduction to Healthcare Quality & Safety
Biography
Dr. Don Casey is Principal and Founder of IPO 4 Health ("Improving Patient Outcomes for Health"), located in Chicago, which provides expertise, senior healthcare executive leadership experience and advice for accountable care and clinical integration via value-based contracting; clinical practice guideline and performance measurement development and implementation; quality outcomes measurement and improvement; physician/medical staff leadership and accountability; population health management for chronic illnesses, including advanced care planning; and expert witness services for medical malpractice corporate negligence and healthcare related antitrust matters. He has served in a number of capacities as advisor, consultant and technical expert for many national organizations, including HHS, CMS, AHRQ, NIH, NQF, NCQA, AMA, ACP, ACC, American Heart Association, American Hospital Association, the Institute for Clinical and Economic Review (ICER) and various state governments.
Dr. Casey's current academic appointments include Associate Professor of Medicine at Rush Medical College (Chicago) and affiliate faculty positions with the Jefferson College of Population Health (Philadelphia) and the University of Minnesota Institute for Health Informatics (Minneapolis).  He has also held past academic appointments at the Schools of Medicine of Grossman NYU (Professor of Medicine and Population Health) and Icahn Mount Sinai (Associate Professor of Medicine).  Prior academic roles include Loyola University (Chicago), Xavier University School of Health Administration (Cincinnati) and lecturer at the Leonard Davis Institute of the University of Pennsylvania.
Dr. Casey is the Immediate Past President of the American College of Medical Quality (ACMQ),having served on the ACMQ Board of Trustees from 2007-2021 and is currently Senior Associate Editor of ACMQ's peer reviewed American Journal of Medical Quality (AJMQ).    
Dr. Casey has participated in developing and implementing numerous clinical practice guidelines and quality performance measures through the American College of Physicians, American Heart Association (AHA), American College of Cardiology, Agency for Healthcare Research and Quality (AHRQ) and National Quality Forum (NQF), The Joint Commission, the Centers for Medicare and Medicaid Services, state health departments among others.  He is currently an active member of the NQF Patient and Experience Committee and represents the AHA as member of the National Hypertension Control Roundtable.
Dr. Casey has authored more than 120 peer-reviewed articles in publications such as the Journal of the American Medical Association (JAMA Internal Medicine), New England Journal of Medicine, Annals of Internal Medicine, Academic Medicine, Circulation, the Journal of the American College of Cardiology (JACC) and the American Journal of Medical Quality (AJMQ).  He frequently serves as an active peer reviewer for AJMQ, JAMA, JAMA Internal Medicine, Annals of Internal Medicine, Academic Medicine, Population Health Management and Inquiry. With an Elsevier Scopus h-Index of 63, Dr. Casey has been cited more than 37,500 instances in the international healthcare literature. 
A board-certified primary care internist, Dr. Casey has practiced primary care, emergency medicine, and hospital/critical care medicine in a variety of clinical settings for 20 years, including an inner city Federally Qualified Health Center (FQHC), a 2 physician private office practice, a large internal medicine teaching program group practice and a multispecialty group in a rural community providing full risk/capitated care to Medicaid patients. He has also served as a medical director for long term care, palliative care, geriatric services and home care organizations.