Francis Colangelo, MD, MS-HQS, FACP
Lecturer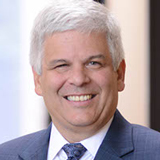 Contact
901 Walnut Street
10th Floor
Philadelphia, PA 19107
215-503-0174
215-923-7583 fax
Francis Colangelo, MD, MS-HQS, FACP
Lecturer
Research & Practice Interests
General Internal Medicine
Patient Quality and Safety
Diabetes and Hypertension
Education
MD, Jefferson Medical College
MS-HQS, Thomas Jefferson University
University Appointment
Lecturer, Jefferson College of Population Health
Teaching
Applied Principles of Patient Safety
Applied Principles of Healthcare Quality
Advanced Applications of Healthcare Quality & Safety in Clinical Settings
Biography
Francis R Colangelo, MD, MS-HQS, FACP practices as an internist and serves as Vice President and Chief Quality Officer for Premier Medical Associates, a large multispecialty group in suburban Pittsburgh, PA, and as the Medical Director of the Outcomes Office for the Allegheny Health Network. 
Dr. Colangelo is a 1984 graduate of Jefferson Medical College, and trained in Internal Medicine at the University of Pittsburgh. He obtained a Masters of Health Care Quality and Safety from the Thomas Jefferson College of Population Health in 2017.
Dr. Colangelo is part of the leadership team that has transformed Premier Medical Associates into a nationally recognized leader in providing high performing patient centered medical care. He has organized numerous quality improvement efforts that led recognition from the CDC's Million Hearts Initiative as a Hypertension Control Champion, received a National Achievement Award from the National Colorectal Cancer Roundtable (NCCRT) for its work in increasing colorectal cancer screening rates, and earned the prestigious Acclaim Award from the American Medical Group Association (AMGA). 
He serves on the AMGA Foundation Board of Directors, and the National Steering Committee for the NCCRT.
Dr. Colangelo was part of a PCORI funded research effort to implement an evidence based individualized risk assessment tool that has improved outcomes for patients with prediabetes, and a lead investigator for enrolling patients into a virtual diabetes clinic program, which led to great improvement in patients' blood sugar control.