Barbara Benson Yody, MGA, CSSBB
Lecturer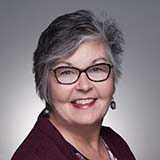 Contact
901 Walnut Street
10th Floor
Philadelphia, Pennsylvania 19107
Barbara Benson Yody, MGA, CSSBB
Lecturer

RESEARCH AND PRACTICE INTERESTS
Applied Quality Improvement Studies
Qualitative Research
Outcomes Research
Lean Healthcare
Measurement Science 
Education
MGA, Masters of Government Administration, Fels Center for State and Local Government, University of Pennsylvania
BA, Experimental Psychology, Geography (Minor), Indiana University of Pennsylvania

Publications
Beyond CMS Quality Measure Adjustments: Identifying Key Resident and Nursing Home Facility Factors Associated with Quality Measures. Horn SD, Sharkey SS, Hudak S, Smout RJ, Quin CC, Yody B, Flesher Journal of American Medical Director Assocation, September 2010. 
Short stay nursing home rehabilitation patients: transitional care problems pose research challenges", Quinn CC, Port CL, Zimmerman S, Gruber-Baldini AL, Kasper JD, Fleshner I, Yody B, Loome J, Magaziner J. Journal of the American Geriatric Society.  October 2008, Vol.  56(10):1940-5.

Behavior Management and Acquire Brain Injury – Approaches and Assessment. B. Benson Yody, S. Peters, C. Schaub, J. Conway, D. Strauss, S. Helsinger. Journal of Head Trauma Rehabilitation. August 2000, Vol. 15:(4), 1041-1060.
The effect of decreasing lengths of stay on long TBI patient outcomes", B. Benson Yody and D. Strauss. Journal of Rehabilitation Outcomes Measurement. 1999, Vol. 3:(3), 47-50

Behavior analysis to manage disruptive adjustment in TBI - A case study, J. Conway, C. Schaub, B. Benson Yody. The Case Manager. May-June, 1999.

Return to Home after Acquired Brain Injury: Is the Family Ready?" C. Coppa, J. Hepburn, David Strauss, and B Benson Yody, Brain Injury Source.  Spring 1999.

The return to work after acquired brain injury. C. Terranova, S. Seckinger, B. Benson Yody.  Continuing Care. February 1999. 
CERTIFICATIONS
Certified Six Sigma Black Belt 
UNIVERSITY APPOINTMENT
Lecturer, Jefferson College of Population Health 
TEACHING
Introduction to Healthcare Quality and Safety
Lean Healthcare
BIOGRAPHY
Barbara Benson Yody is an applied research scientist working in healthcare assisting clinicians and leaders to improve quality and outcomes of care delivery in numerous settings for over 30 years.  She achieved her BA in Experimental Psychology from Indiana University of Pennsylvania, and a Masters in Government Administration from The University of Pennsylvania.  Barbara has lead quality efforts in numerous settings such as acute physical rehabilitation and brain injury rehabilitation, autism and supported employment. Barbara worked for fifteen years in long-term care heading up the Outcomes Management and Clinical Research team where she obtained both the Green Belt and Black certification in Lean Six Sigma.  Barbara has experience improving the quality in nursing homes, assisted living facilities, acute physical rehabilitation hospitals, and post-acute brain injury rehabilitation. 
Currently serving in a leadership role as Vice President for Process & Performance improvement, Barbara provides leadership for the Quality Assurance and Performance Improvement (QAPI) programs in psychiatric hospitals and residential treatment centers across the nation.  She develops and executes trainings to increase competency in the principles of PI and Lean Six Sigma.  As a Certified Six Sigma Black Belt, Barbara supports the executive sponsors and division leadership in executing strategic improvement initiatives. Barbara leads a team of analysts to provide visibility, reporting & analysis to improve patient safety, quality, survey outcomes, operations and staff turnover and retention.