Byron Scott, MD, MBA, FACEP, FAAPL
Lecturer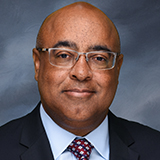 Contact
901 Walnut Street
10th Floor
Philadelphia, PA 19107
215-503-0174
215-923-7583 fax
Byron Scott, MD, MBA, FACEP, FAAPL
Lecturer
Research & Practice Interests
Healthcare Quality
Performance Improvement
Physician Leadership
Board Governance
Education
MD, University of California, San Diego
MBA, University of Massachusetts Amherst
BS, University of California, Los Angeles

Publications
Residency
Emergency Medicine, Orlando Regional Medical Center
Fellowship
Administrative Fellowship, Orlando Regional Medical Center
Board Certification
American Board of Emergency Medicine
University Appointment
Lecturer, Jefferson College of Population Health
Teaching
Healthcare Quality and Patient Safety
Biography
Byron Scott, MD, MBA is the former Deputy Chief Health Officer at Simpler Consulting, IBM Watson Health, a professional services firm that partners with clients to drive meaningful transformations across all aspects of their business by aligning strategies, optimizing resources, streamlining operations, and instilling a culture of continuous improvement. Previously he was Associate Chief Medical Officer at Truven Health Analytics, an IBM Company. In that role, he supported hospitals, physician groups, health plans, and employers to improve overall healthcare and clinical performance with quality and leadership initiatives using health analytics.   
Prior to joining Truven Health, Dr. Scott worked for EmCare (now Envision Healthcare), a physician practice management company, for over 20 years. His roles during his tenure there included Site Medical Director, Director of Medical Program Development, and Regional Medical Director. Most recently, he served as Executive Vice President in the West Division, where he managed the Client Services Teams for 140 hospital contracts (Hospitalist, Anesthesia, Emergency Medicine) with responsibility for both financial and clinical quality initiatives.  
He worked as Medical Director of the Emergency Department at Methodist Richardson Medical Center where he practiced emergency medicine for over 20 years.  At Methodist Richardson, he served as past Chief of Staff where he also chaired and participated on multiple hospital committees including Medical Executive, Peer Review, and Credentials.  He is also a past Trustee of the Richardson Hospital Authority Board where he participated on several committees of the Board including Finance/Audit and Compliance committees for five years.  He is a past consultant for a State Medical Board for 17 years.  Dr. Scott previously practiced on weekends during his tenure in Chicago at Northwestern Medicine Immediate Care Center.
In addition to his administrative and clinical work, Dr. Scott serves on several professional and non profit boards. He is a member of the Board of Directors for Direct Relief, an International Humanitarian Medical Aid Organization; serves on the Board of Directors for the American Association for Physician Leadership; and is on the Rady Children's Hospital-San Diego Quality and Safety Committee of the Board of Trustees.
He received his undergraduate degree in Psychobiology from the University of California, Los Angeles and his medical degree from the University of California, San Diego.  He earned his Master of Business Administration from the University of Massachusetts, Amherst.  He completed his Emergency Medicine Residency and Administrative Fellowship at Orlando Regional Medical Center where he was also Chief Resident.  During the fellowship, he also served for two years as a faculty attending teaching residents and medical students.
He is a Fellow and Certified Physician Executive by the Certifying Commission in Medical Management of the American Association for Physician Leadership, board certified in Healthcare Quality Management, and board certified by the American Board of Emergency Medicine.  He is also a Fellow of the American College of Emergency Physicians.
Dr. Scott is an Adjunct Faculty member at the University of Massachusetts, Amherst Isenberg School of Management online MBA program, where he teaches a Healthcare Quality and Performance Improvement course. He is also Adjunct Faculty for the College of Population Health  at Thomas Jefferson University, where he teaches a Healthcare Quality and Patient Safety course. He currently serves on the Editorial Board of American Health and Drug Benefits Journal.