W. Kevin Kelly, DO
Chair, Department of Medical Oncology
Director, Division of Solid Tumor Oncology
Professor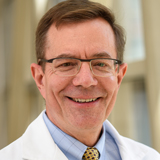 Contact
925 Chestnut Street
Suite 220A
Philadelphia, PA 19107
W. Kevin Kelly, DO
Chair, Department of Medical Oncology
Director, Division of Solid Tumor Oncology
Professor
Education
Medical School
Philadelphia College of Osteopathic Medicine - 1986
Residency
Albert Einstein Medical Center, Philadelphia, PA
Fellowship
Cornell Medical Center - New York Hospital
Memorial Hospital for Cancer & Allied Disease
Most Recent Peer-Reviewed Publications
Board Certification
Hospital Appointment
Thomas Jefferson University Hospital
Methodist Hospital Division of Thomas Jefferson University Hospital
Active Medical Staff
Director, Division of Solid Tumor Oncology
Research & Clinical Interests
Dr. W. Kevin Kelly is known nationally for his research on urological malignancies and his expertise in drug design and development.

"One of our dilemmas now is how to choose the right treatment for the right patient at the right time," says Kelly, who joined Jefferson in 2010 as director of the Division of Solid Tumor Oncology in the Department of Medical Oncology and associate director of translational research at the Kimmel Cancer Center.

Kelly's research linking elevated prostate-specific antigen levels to prostate cancer treatment outcomes remains a foundation for drug development in patients with advanced prostate cancer today. More recently, he has been instrumental in developing multiple compounds such as microtubule disrupting agents, histone deacetylase (HDAC) inhibitors and anti-angiogenesis therapies for urologic cancers. He has successfully developed several new drugs from bench through clinical trial and approval – most notably the HDAC-inhibitor, vorinostat, marketed by Merck as Zolinza and approved for cutaneous T-cell lymphoma.

Prior to joining the Jefferson faculty, Kelly directed the solid tumor clinical investigative program at Yale University's School of Medicine, where he also co-directed prostate and urological oncology. He spent the previous 15 years on the faculty at Memorial-Sloan Kettering Cancer Center. He currently serves on the editorial boards of Clinical Prostate Cancer, Journal of Clinical Oncology, and Nature Clinical Practice Oncology.