Jonathan Foster, MD
Clinical Instructor of Medicine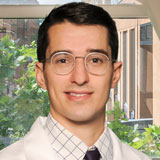 Contact
Office
1025 Walnut Street
College Building, Suite 801
Philadelphia , PA 19107
215-955-0735
215-955-5535 fax
Jonathan Foster, MD
Clinical Instructor of Medicine
Education
Medical School
Thomas Jefferson University Hospital, Philadelphia, PA
Residency
Thomas Jefferson University Hospital, Philadelphia, PA
Publications
Jonathan Foster, Jaya Janadhyala. Poster Presentation. "The Bloody Side of Malaria." 2021 Mid-Atlantic SGIM Meeting. October 29 2021.
Nivethietha Maniam, Travis Hunt, Gregory Habig, Jonathan Foster, Joshua Hamsher, Jesse Johnson, Svenja Scheider, Adam Binder. Poster Presentation. "Recommendations for the Use of Tryptase in the Diagnosis and Evaluation of Anaphylaxis in the Emergency Department." Jefferson GME Quality and Safety Poster Session. 2021.
Fishbein I, Guerrero DT, Alferiev IS, Foster JB, Minutolo NG, Chorny M, Monteys AM, Driesbaugh KH, Nagaswami C, Levy RJ. "Stent-based delivery of adeno-associated viral vectors with sustained vascular transduction and iNOS-mediated inhibition of in-stent restenosis." Nature Publishing Group. Gene Therapy 24 717-724 2017.