Gudrun Debes, DVM
Associate Professor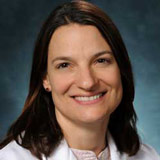 Contact
233 S. Tenth Street
Room 526
Philadelphia, PA 19107
Featured Links
Gudrun Debes, DVM
Associate Professor
Education
Medical School
DVM, Charité University Medicine, Free University Berlin, Berlin, Germany - 2002
Fellowship
Stanford University School of Medicine, Stanford, CA
Most Recent Peer-Reviewed Publications
Fellowship
Stanford University School of Medicine, Stanford, CA
Research & Clinical Interests
My laboratory seeks to understand the regulation of T and B cell recirculation through and function within nonlymphoid tissues with a main focus on the skin and the respiratory tract. We aim to discover novel approaches to manipulate lymphocytic tissue infiltrates with the goal to moderate inflammation in inflammatory and autoimmune diseases and to enhance organ-specific immunity in infection and cancer.
My laboratory has three main interests:
(1) The migration of pro and anti-inflammatory effector/memory T and B cell subsets from blood into tissues in inflammation and infection. (2) The mechanisms of lymphocyte egress from nonlymphoid tissues via afferent lymph vessels and the role of this process in local inflammation and immunity. (3) The migration and function of skin-homing B cells and NK cells, which are lymphocyte subsets that are traditionally not associated with skin immune responses.