Holly Ramage, PhD
Assistant Professor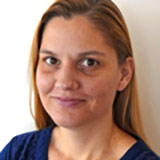 Contact
233 S 10th Street
Bluemle Life Sciences Building
Suite 526
Philadelphia, PA 19107
Holly Ramage, PhD
Assistant Professor
Education
Education
PhD, Genetics, University of California at San Francisco, San Francisco, CA - 2010
MS, Biology, California State University at Fresno, Fresno, CA - 2003
Most Recent Peer-Reviewed Publications
Research & Clinical Interest
The long-term goals of the Ramage Lab are to understand the molecular mechanisms of viral-host interactions and the using a multi-disciplinary approach involving microbiology, molecular biology, genetics, biochemistry, and proteomics. Our current research focuses on the following areas:
Members of the Flavivirus genus are the most important arthropod-borne viruses that cause disease in humans. This genus includes Dengue (DENV), Zika (ZIKV), West Nile (WNV), Japanese encephalitis (JEV), and yellow fever (YFV) viruses, which are endemic in many areas of the world. Given the continuing spread of flaviviruses across the globe and the emergence of new flaviviruses, it is imperative that we develop a better understanding the host pathways that influence flaviviral infection. We aim to identify these pathways by examining the physical interactions that occur between flavivirus and host proteins during infection.
Post-translational modification (PTM) pathways play a crucial role in regulating protein function, stability and localization in a variety of pathways in the host cell. Increasing evidence indicates that many viruses, including flaviviruses, have evolved mechanisms to manipulate the host PTM machinery to promote infection. We are using powerful proteomics techniques to identify changes in host protein abundance and PTMs (including phosphorylation and ubiquitylation) in response to viral infection. We are particularly interested in how these modifications may allow flaviviruses to evade innate immune factors.
In response to the ongoing pandemic caused by SARS-CoV-2, we are working to better understand the biology of this virus and to develop tools to support future research. Our long-term goals are focused on deciphering cellular mechanisms that restrict SARS-CoV-2. These include cell intrinsic responses, as well as regulation of innate immune signaling. Through these studies we aim to elucidate the mechanisms by which the SARS-CoV-2 establishes infection and evades anti-viral defenses.