Iyad Alnahhas, MD, MSc
Assistant Professor, Neurology and Neurological Surgery
Division of Neuro-oncology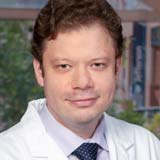 Contact
909 Walnut Street
Suite 300
Philadelphia, PA 19107
215-955-4866
215-503-9357 fax
Iyad Alnahhas, MD, MSc
Assistant Professor, Neurology and Neurological Surgery
Division of Neuro-oncology
Education
Medical School
Faculty of Medicine- Damascus University, Damascus, Syria 
Residency
Virginia Commonwealth University
Fellowship
The Ohio State University
Publications
Board Certification
American Board of Psychiatry and Neurology
Awards
Resident Teacher Award- Virginia Commonwealth University- 2016
Research & Clinical Interests
My areas of expertise include the diagnosis and management of patients with primary central nervous system tumors (including gliomas and central nervous system lymphoma), metastatic cancer to the brain, leptomeningeal disease and neurological complications of cancer and cancer treatments.
I am a clinician-scientist and my focus is in translational research; that is translating cutting edge science into the clinic and running clinical trials. My research focus is in brain tumor genomics, i.e. mutations and other genetic changes that lead to brain tumor growth.
My research and clinical practice are built around the patients and their caregivers in an attempt to improve patient outcomes and focus on their well-being and quality of life.
Publications
Iyad Alnahhas, Stephanie LaHaye, Pierre Giglio, et al. An evaluation of MGMT promoter methylation within the methylation subclasses of glioblastoma. Neurooncol Adv. 2020 Oct 30;2(1):vdaa082.
Iyad Alnahhas, Appaji Rayi, Shirley Ong, et al. Management of gliomas in patients with Lynch Syndrome. Neuro Oncol. 2020 Oct 16:noaa227. doi: 10.1093/neuonc/noaa227. Epub ahead of print.
Iyad Alnahhas, Mouaz Alsawas, Appaji Rayi, et al. Characterizing Benefit from Temozolomide in MGMT Promoter Unmethylated and Methylated Glioblastoma: A Systematic Review and Meta-analysis. Neurooncol Adv. 2020 Oct 30;2(1):vdaa082.
Iyad Alnahhas, Appaji Rayi, Joshua D Palmer, et al. The Role of Vascular Endothelial Growth Factor Receptor Inhibitors in Preventing Cerebral Radiation Necrosis: A Retrospective Cohort Study, Neuro-Oncology Practice, 2020, npaa067.
Iyad Alnahhas, Appaji Rayi, Diana Thomas, et al. False-positive 1p/19q testing results in gliomas: clinical and research consequences. Am J Clin Oncol. 2020 Nov;43(11):802-805.
Candice Carpenter, Iyad Alnahhas, Javier Gonzalez, et al. Changing paradigms for targeted therapies against diffuse infiltrative gliomas: tackling a moving target. Expert Review of Neurotherapeutics. 2019;19(7):663-77. doi: 10.1080/14737175.2019.1621169.
Denise Fabian, Eibl Maria GP, Iyad Alnahhas, et al. Treatment of Glioblastoma (GBM) with the Addition of Tumor-Treating Fields (TTF): A Review. Cancers. 2019;11(2):174. doi: 10.3390/cancers11020174.
Iyad Alnahhas, Mohammad Jawish, Mouaz Alsawas, et al. Autologous Stem-Cell Transplantation for Primary Central Nervous System Lymphoma: Systematic Review and Meta-analysis. Clinical Lymphoma Myeloma and Leukemia. 2019;19(3):e129-e41. doi: 10.1016/j.clml.2018.11.018.
Iyad Alnahhas, Jason Wong. A case of new‐onset antibody‐positive myasthenia gravis in a patient treated with pembrolizumab for melanoma. Muscle & Nerve. 2017;55(6).
Iyad Alnahhas, Jason Wong, Scott Vota. A case of Lambert–Eaton myasthenic syndrome associated with pancreatic neuroendocrine tumor. Neurology and Clinical Neuroscience. 2018 Mar;6(2):54-6.
Iyad Alnahhas, Mark Malkin. Journal Club: Randomized phase III study of whole-brain radiotherapy for primary CNS lymphoma. Neurology. 2015;85(24):e187-e9.
Iyad Alnahhas, Mark Malkin. Chemotherapy of Adult Ependymoma. Handbook of Brain Tumor Chemotherapy, Molecular Therapeutics, and Immunotherapy: Elsevier; 2018. p. 483-5.
Complete List of Published Work in My Bibliography: https://www.ncbi.nlm.nih.gov/myncbi/14qNfnuO9rsA8/bibliography/public/