Davide Trotti, PhD
Professor, Department of Neuroscience
Research Director, Weinberg Unit for ALS Research
Vickie and Jack Farber Institute for Neuroscience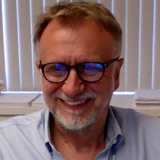 Contact
900 Walnut Street
JHN 4th floor
Philadelphia, PA 19107
215-955-8416
215-503-4358 fax
Davide Trotti, PhD
Professor, Department of Neuroscience
Research Director, Weinberg Unit for ALS Research
Vickie and Jack Farber Institute for Neuroscience
Research & Clinical Interests
Neurobiologist Davide Trotti has a long standing interest in understanding the mechanisms of neuronal cell death in neurodegenerative diseases.
High affinity glutamate transporters play a crucial role in the process of synaptic transmission and in the control of excitotoxic cell death. After release and interaction with its receptors, glutamate is removed from the synaptic cleft by uptake mechanisms. The maintenance of a low concentration of external glutamate is one obvious function of the glutamate transport systems. This function is crucial, as glutamate becomes neurotoxic when its extracellular concentration exceeds certain levels. A perturbed function at glutamatergic synapses has been implicated in many disease states, including brain ischemia, epilepsy and several human neurodegenerative disorders such as Amyotrophic Lateral Sclerosis (ALS).
Research in Dr. Trotti's laboratory is aimed at studying the molecular mechanisms of excitotoxicity leading to motor neuron degeneration in amyotrophic lateral sclerosis (ALS). ALS is the most common adult motor neuron disease and its primary hallmark is the death of motor neurons of the spinal cord which leads to spasticity, hyper-reflexia, general weakness and muscle atrophy. Failure of respiratory muscles is generally the fatal event, occurring within 1-5 years of symptoms onset. Impairment in the glutamate transport system and loss of the glutamate transporter GLT1 (a.k.a.EAAT2) are pathological events contributing to motor neuron death in ALS. Dr. Trotti's laboratory has accumulated expertise in the study of molecular mechanisms regulating glutamate transporter activity, expression and trafficking.
A second objective of Dr. Trotti's research is the study of mitochondria and the molecular mechanisms leading to their impaired physiology in ALS. Mitochondria are one of the main sources of energy production and play a pivotal role in maintaining neuronal cell alive. A pathology-driven impairment in these organelles may shift the balance between life and death and lead to neuronal degeneration.
A third objective of Dr. Trotti's research involve therapeutic approaches in ALS. High expression levels, multispecificity, and high transport potency makes the P-glycoprotein a selective gatekeeper of the brain and blood-brain barrier and thus a primary obstacle to drug delivery in the CNS. As such, P-glycoprotein limits CNS entry of a large number of drugs and xenobiotics, contributes to the poor success rate of CNS drug candidates, and probably contributes to patient-to-patient variability in response to CNS pharmacotherapy. Modulating P-glycoprotein could therefore improve drug delivery into the CNS and drug therapy. We propose to validate this concept in the context of ALS therapy.
Current Research Programs
Post-translational processing of the glial glutamate transporter EAAT2 in ALS
Mechanisms of mitochondria impairment in ALS
P-glycoprotein mediated chemoresistance in ALS therapy
Publications