Alexander R. Vaccaro, MD, PhD, MBA
Richard H. Rothman Professor in Orthopaedic Surgery & Chairman, Department of Orthopaedic Surgery
President, Rothman Orthopaedics at Jefferson Health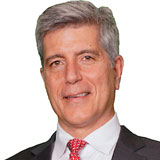 Contact
925 Chestnut Street
5th Floor
Philadelphia, PA 19107-4216
267-339-3500
267-479-1379 fax
Alexander R. Vaccaro, MD, PhD, MBA
Richard H. Rothman Professor in Orthopaedic Surgery & Chairman, Department of Orthopaedic Surgery
President, Rothman Orthopaedics at Jefferson Health
Education
Medical School
Georgetown University School of Medicine - 1987
Residency
Thomas Jefferson University Hospital
Fellowship
University of California, San Diego Medical Center
Most Recent Peer-Reviewed Publications
Scopus Feed has no publications.
Board Certification
Hospital Appointment
Thomas Jefferson University Hospital
Expertise & Research Interests
Dr. Vaccaro is the President of Rothman Orthopaedics at Jefferson Health and Chairman of Orthopaedics at Sidney Kimmel Medical College at Thomas Jefferson University. In this dual role, Dr. Vaccaro will oversee the clinical, educational, and research enterprises for both Rothman and Jefferson. A world-renowned spinal surgeon and educator, Dr. Vaccaro previously served as Vice Chair at Rothman Orthopaedics and Vice Chair of orthopaedics at Jefferson as well as Co-Director of the Spine Fellowship program. He specializes in the comprehensive treatment of numerous pathologic conditions affecting the cervical, thoracic, and lumbosacral spines including degenerative disk disease, scoliosis and other deformities, trauma, infections and tumors. He has an interest in minimally invasive surgical techniques and image guided technologies in the management of spinal disorders. Dr. Vaccaro attended Boston College where he was elected a member of the Phi Beta Kappa, Alpha Epsilon Delta as well as the Order of the Cross and Crown Arts and Sciences Honor Societies. He graduated Summa Cum Laude in 1983 with a B.S. in Biology. He received his M.D. degree from Georgetown University School of Medicine where he was promoted with "Distinction" (Top 15% of medical school class) in his pre-clinical years. He earned membership in the Alpha Omega Alpha (AOA) Honor Society and graduated with honors in 1987. He completed a year of Surgical Internship at Cedars-Sinai Medical Center in Los Angeles, CA and his Orthopaedic Surgery Residency was at Thomas Jefferson University where he graduated in 1992. Dr. Vaccaro completed a Spine Fellowship at the University of San Diego, CA. He became a member of the Department of Orthopaedic Surgery at Thomas Jefferson University in 1993. He earned a PhD in 2007 in the field of Spinal Trauma. He is a Board-certified Orthopaedic Surgeon and licensed to practice Orthopaedics in Pennsylvania, New Jersey, California, Delaware and Hawaii. Dr. Vaccaro is also the Co-Director of the Regional Spinal Cord Injury Center of the Delaware Valley, one of the largest tertiary referral centers for spinal cord injury in the nation. Dr. Vaccaro holds numerous Society memberships including the American Academy of Orthopaedic Surgeons, the Philadelphia College of Surgeons, the Cervical Spine Research Society, the North American Spine Society, the Scoliosis Research Society, the American Orthopaedic Association, and the International Society for the Study of the Lumbar Spine. He was asked to be the only Orthopaedic surgeon reviewer for the Journal of Neurosurgery Spine and is a member of the American Association of Neurologic Surgeons (AANS). In 2000, he was selected to be an AOA-Japanese Orthopaedic Traveling Fellow where he toured various academic universities in Japan and in 2003 he was selected as a Scoliosis Research Society traveling fellow where he toured and lectured in Turkey and Western Europe. He has done extensive research on a broad range of topics related to disorders of the spine and has over 360 peer reviewed and over 150 non-peer reviewed publications. He has published over 200 book chapters and is the editor of over 27 textbooks and co-editor of OKU-Spine I and editor of OKU-8. His current research involves the timing of surgery after traumatic spinal cord injury, the use of alternative bone graft substitutes in spinal fusion surgery including recombinant tissue engineering, invasive methods to stabilize osteoporotic compression fractures, and the development of spinal implants for traumatic degenerative disorders of the spine.