Nicole Simone, MD
Vice Chair of Research & Diversity, Equality, & Inclusion
Margaret Q. Landenberger Professor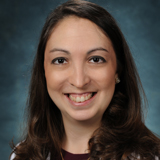 Contact
111 South 11th Street
Bodine Center, Suite G-301
Philadelphia, PA 19107
215-955-6702
215-955-0412 fax
Featured Links
Nicole Simone, MD
Vice Chair of Research & Diversity, Equality, & Inclusion
Margaret Q. Landenberger Professor
Education
Medical School
UMDNJ, New Jersey Medical School - 2003
Residency
National Cancer Institute
Most Recent Peer-Reviewed Publications
Scopus Feed has no publications.
Research & Clinical Interests
I am a board-certified radiation oncologist who has a particular interest in using technological advances in radiation oncology to minimize side effects of treatment while still optimally treating the area of disease.  I treat a variety of malignancies but have concentrated on breast cancer for which I have conducted several clinical trials. I work closely with our multidisciplinary team of radiologists, pathologists, surgeons and medical oncologists to ensure that optimal treatment is chosen for each individual patient.
When I'm in the laboratory, I study the effect of combining a healthy diet with standard therapies to try and optimize cancer outcomes.  I incorporate the knowledge gained in the laboratory into patient care when appropriate. I also participate in institutional and national clinical trials to help bring state-of-the-art cancer care to my patients. In particular, I have studied the long term toxicity associated with radiation in breast cancer and am currently studying novel methods to treat patients to protect their heart and lungs.
In the laboratory my team and I focus on how caloric restriction, or a reduction in overall calories can augment the response of radiation in hormonally responsive cancers such as breast and prostate cancer. We have shown that caloric restriction, combined with radiation, inhibits both tumor growth and metastases in two aggressive models of breast cancer and are also looking at advanced prostate cancer.