Erica Middleton, PhD
Associate Professor, Department of Rehabilitation Medicine
Institute Scientist, Moss Rehabilitation Research Institute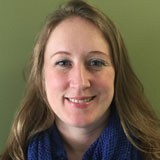 Contact
Moss Rehabilitation Research Institute
50 Township Line Road
Elkins Park, PA 19027
Featured Links
Erica Middleton, PhD
Associate Professor, Department of Rehabilitation Medicine
Institute Scientist, Moss Rehabilitation Research Institute
Research & Clinical Interests
One of the most amazing and complex human abilities is the act of transforming mental representations of the world and personal experiences into information-rich sequences of sound (i.e., language production) that are then understood by a listener. Dr. Middleton's research program is dedicated to understanding the processes involved in language production, as well as how such processes are disrupted in acquired language disorder (aphasia). Aphasia is an impairment that affects the production or comprehension of spoken, written, or gestured speech. Effective prioritization and optimization of available treatment methods for people with aphasia (PWA) requires an understanding of how the damaged system responds to different kinds of learning experiences, i.e., a theory of learning. Dr. Middleton's work is dedicated to development of a theory of learning for aphasia rehabilitation based on retrieval practice principles, powerful learning principles derived from basic psychological research. Concerning the treatment of the debilitating and pervasive word retrieval deficit in aphasia, Dr. Middleton has observed that retrieval practice-based naming treatment, in which the PWA attempts to name an object followed by feedback, confers greater benefit to later naming of the same items compared to errorless learning, in which the name is provided for the object and repeated by the PWA. She has also observed that manipulations that enhance retrieval effort, such as greater spacing between an item's trials or training similar items together, confers greater improvement. By systematic examination of the effects of such learning principles on word processing deficits in aphasia, Dr. Middleton's work ultimately is helping to maximize the efficiency and potency of treatments targeting aphasia.
Education
PhD, University of Illinois at Urbana-Champaign, Urbana, IL - 2008
Fellowship
Postdoctoral Fellowship, Cognitive Neurorehabilitation, Moss Rehabilitation Research Institute and University of Pennsylvania, Philadelphia, PA - 2012
Publications
Scopus Feed has no publications.
Awards
2018  - J. Stanley Cohen Award for Research Excellence, Einstein Healthcare Network