Amanda Therrien, PhD
Assistant Professor, Department of Rehabilitation Medicine
Institute Scientist, Moss Rehabilitation Research Institute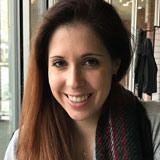 Contact
Moss Rehabilitation Research Institute
50 Township Line Road
Elkins Park, PA 19027
Featured Links
Amanda Therrien, PhD
Assistant Professor, Department of Rehabilitation Medicine
Institute Scientist, Moss Rehabilitation Research Institute
Research & Clinical Interests
Dr. Therrien is interested in understanding the precise mechanisms through which damage to different brain areas disrupts sensorimotor function and motor learning, with a focus on studying the sensory and motor impairments caused by damage to the cerebellum. Her research uses behavioral, computational, and non-invasive brain stimulation methods to study upper extremity movement and postural control. Her goal is to apply this knowledge in the development of new rehabilitation therapies for individuals with sensory and movement disorders. 
Education
PhD, McMaster University, Hamilton, Ontario, Canada - 2013
BSc (Honors), University of Ottawa, Ottawa, Ontario, Canada - 2008
Fellowship
Postdoctoral Fellowship, Neuroscience, Kennedy Krieger Institute and Johns Hopkins School of Medicine, Baltimore, Maryland, 2019
Publications
Scopus Feed has no publications.
Awards
2016-2018 - Distinguished Science of Learning Fellowship, Johns Hopkins Science of Learning Institute, Johns Hopkins University
2010-2013 - Doctoral Postgraduate Scholarship, Natural Sciences and Engineering Research Council of Canada