Luis H. Eraso, MD
Associate Professor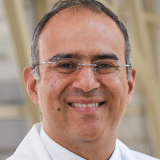 Contact
111 South 11th Street
Gibbon Building, Suite 6210
Philadelphia, PA 19107
215-955-8304
215-503-2203 fax
Featured Links
Luis H. Eraso, MD
Associate Professor
Education
Medical School
Coll Mayor de Nuestro Senora del Rosario
Residency
Mount Sinai Medical Center, Miami, FL
Fellowship
Hospital of University of Pennsylvania
Publications
Scopus Feed has no publications.
Board Certification
Internal Medicine
Vascular Medicine
Hospital Appointment
Thomas Jefferson University Hospital
Awards & Honors
Philadelphia Magazine's Top Docs 2021
Biography
Luis Eraso, MD is an Associate Professor of Medicine and Surgery at Jefferson Medical College in Philadelphia, Pennsylvania. Dr. Eraso received his medical degree at the Universidad del Rosario in Bogota, Colombia and a Masters in Public Health at the University of Massachusetts, Amherst. He completed an internship at the University of Illinois Michael Reese Hospital, followed by a residency at Mount Sinai Medical Center in Miami Beach, Florida and a Vascular Medicine Fellowship at the Hospital of the University of Pennsylvania in Philadelphia.  He is an attending physician at Thomas Jefferson University Hospital and a Vascular Medicine Specialist at the Jefferson Vascular Center, with a special interest in post-thrombotic syndromes and clinical management of complex vascular conditions. Dr. Eraso is also a certified physician vascular interpreter for diagnostic sonography. Dr. Eraso's research focus for the last 14 years has been devoted to the discovery of novel and genetic biomarkers of peripheral arterial and venous diseases that could be employed for therapeutic use and/or risk factor stratification, as well as the genomics of complex vascular conditions. He has numerous publications related to patient - oriented translational and clinical research and large population database analyses. He has served as an investigator on multiple investigator - initiated studies focusing on vascular disease in special patient populations and has been a recipient of awards throughout his career, including one of the first recipients of the NHLBI career development award in Vascular Medicine at the University of Pennsylvania in 2008-11, as well, as the Marjorie A Bowman Early Career Investigator Award at Jefferson Medical College, in 2014.