Anthony Macchiavelli, MD, SFHM, FACP
Clinical Assistant Professor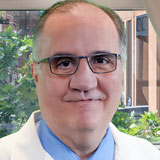 Contact
111 South 11th Street
Gibbon Building, Suite 6210
Philadelphia, PA 19107
215-955-8304
215-503-4983 fax
Featured Links
Anthony Macchiavelli, MD, SFHM, FACP
Clinical Assistant Professor
Education
Medical School
Temple University School of Medicine
Residency
University of Kentucky Medical Center
Publications
Board Certification
Hospital Appointment
Thomas Jefferson University Hospital
Biography
Prior to coming to Jefferson, Dr. Macchiavelli served as a Clinical Assistant Professor of Medicine at Geisinger Commonwealth School of Medicine and worked in Vascular Medicine as the Medical Director of the AtlantiCare Anticoagulation Clinic. In his duties, he established a Pulmonary Embolism Response Team at AtlantiCare to better serve patients with acute venous thromboembolism (VTE) and he led anticoagulation and VTE initiatives at AtlantiCare. He served as a mentor for the Society of Hospital Medicine VTE-FAST Program. He worked on anticoagulation issues at AtlantiCare since he arrived in 2011 and was the Principal Investigator at AtlantiCare for multiple international, national, and regional studies on anticoagulation and VTE. He also served as the Chairman of the AtlantiCare IRB. He is a Senior Fellow of Hospital Medicine and a Fellow of the American College of Physicians. 
Dr. Macchiavelli received his undergraduate degree in physics from the US Military Academy at West Point in 1983. He is a retired U.S. Army Officer and a disabled American veteran. He was the first person in US history to undergo vocational rehabilitation with the Veterans Administration while in medical school at Temple University.
He completed his residency in Internal Medicine at Graduate Hospital in Philadelphia. He co-authored multiple papers including:
Balancing Anti-thrombotic Efficacy and Bleeding Risk in the Contemporary Management of Venous Thromboembolism
The Impact of Risk Stratification of Venous Thromboembolism on Complexity and Site of Management
He was on the Standards Review Panel and co-authored the Joint Commission "National Patient Safety Goal for anticoagulant therapy" that became effective July 2019. He has received multiple teaching and leadership awards and focuses his efforts on the delivery of high-quality care, systems improvement, and leadership development in healthcare.