Lauren Deibler
Director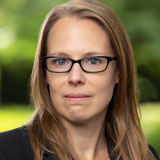 Contact
Undergraduate Admissions
4201 Henry Avenue
Philadelphia, PA 19144
Lauren Deibler
Director
POPULATION
BIOGRAPHY
Lauren Deibler joined Thomas Jefferson University in 2020. She finds her work with students very rewarding as she meets inspiring individuals with unique experiences and aspirations.
She loves that the Jefferson community is so focused on helping students achieve success. She credits Nexus Learning, Jefferson's approach to collaborative, real-world education, to student's success.

Her favorite place in Philadelphia is the Reading Terminal Market.