Visit Jefferson
Center City Campus
We believe that it is important for you to visit our campus and learn what sets us apart from other health sciences universities. Each of our Colleges offers its own events for you to get specialized information for your program and meet the staff and students you'd be working with.
See how to travel to our central Philadelphia campus.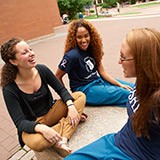 Tell us a little bit about yourself and receive personalized information about the University.