Andrew Kopolow, MPA, MSW, CPHQ, PMP, CLSSMBB, FNAHQ
Assistant Program Director, Healthcare Quality & Safety (Curriculum)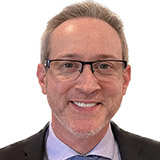 Contact
901 Walnut Street
10th Floor
Philadelphia, PA 19107
215-503-0174
215-923-7583 fax
Andrew Kopolow, MPA, MSW, CPHQ, PMP, CLSSMBB, FNAHQ
Assistant Program Director, Healthcare Quality & Safety (Curriculum)
Research & Practice Interests
Continuous Quality Improvement
Operational Excellence
Lean Six Sigma Process Improvement
Change Management
Education
MSW, Arizona State University
MPA, Arizona State University
Publications
ADDITIONAL PUBLICATIONS
Casey, DE, Kopolow A. Solid C. Major Economic Losses Associated with Inadequate Control of High Blood Pressure: Time for Change. Population Health Management. Online Ahead of Print: March 8, 2022. 
Kopolow AM, Kopolow LE. Corporate Social Responsibility in Health. Encyclopedia of Bioethics, edited by Bruce Jennings, 715-718. Farmington Hills, MI: Macmillan Reference USA, 2014. 
CERTIFICATIONS
Certified Professional in Healthcare Quality (CPHQ)
Certified Project Managment Professional (PMP)
Certified Lean Six Sigma Master Black Belt (CLSSMBB)
Teaching
Healthcare Quality & Safety Tools and Methods
Introduction to Healthcare Quality & Safety
Healthcare Quality & Safety Measurement & Outcomes Analysis
The Business Case for Quality 
Biography
Mr. Kopolow draws on 20 years of experience in healthcare with roles ranging from direct practice behavioral health clinician to Director of Quality Management. He is a nationally recognized subject matter expert in healthcare quality and change management. In his current role as the Associate Director of Operational Excellence within UnitedHealthcare's Population Health Management organization, he oversees programming dedicated to improving quality and reducing systemic waste in healthcare. 
Evidence of Mr. Kopolow's passion for advancing the Healthcare Quality profession can be seen through ongoing volunteer service at both national and local healthcare quality organizations. Examples include helping to overhaul the National Association for Healthcare Quality (NAHQ) Code of Ethics for the Healthcare Quality Profession, contributing to the expansion of the NAHQ Healthcare Quality Competencies Framework, and participating in the Commission on Accreditation of Healthcare Management Education (CAHME) Blue Ribbon Panel to establish Graduate Healthcare Quality Certification Program Standards. Mr. Kopolow helped organize a network of local Healthcare Quality Associations across the United States (known as the Healthcare Quality Collective) in support of continuing healthcare quality education. He was inducted as a NAHQ Fellow in 2021.
Mr. Kopolow served on the National Association for Healthcare Quality's Board of Directors as the first Competencies Commission Chair (2016-2017). He is currently Immediate Past President with the Association for Healthcare Quality of Arizona Board of Directors.