Sharon Larson, PhD
Associate Dean for Research
Executive Director, Main Line Health Center for Population Health Research at Lankenau Institute for Medical Research
Research Professor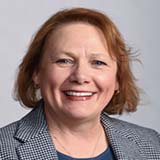 Contact
MLH Ctr. for Population Health Research
100 East Lancaster Avenue
Wynnewood, PA 19096
484-476-3914
484-476-8533 fax
Sharon Larson, PhD
Associate Dean for Research
Executive Director, Main Line Health Center for Population Health Research at Lankenau Institute for Medical Research
Research Professor
Research & Practice Interests
Mental Health
Substance Abuse Issues
Access to and Utilization of Care
Patient-Centered and Patient-Reported Outcomes
Survey Study Design and Survey Deployment
Evaluation and Performance Assessment
Mixed Methods Approaches to Gathering and Analyzing Data
Community-Focused Health Studies
Education
PhD, University of Nebraska-Lincoln
Post-doctoral Fellowship, Johns Hopkins University
Publications
Scopus Feed has no publications.
Biography
Dr. Sharon Larson is a population health researcher. Dr. Larson earned her PhD and Master of Arts degrees in Sociology from the University of Nebraska-Lincoln. She completed a post-doctoral fellowship in Psychiatric Epidemiology at Johns Hopkins University Bloomberg School of Public Health in the department of Mental Health. 
Dr. Larson served as the acting Chair of the Department of Epidemiology and Health Services Research during the department's inaugural year in the Geisinger Health system. She also served as the Director of Behavioral Health Services Research and the Director of Research Training for the system's new Psychiatry Residency program. Dr. Larson was co-PI on the PCORI-funded PATH network, a clinical data research network (CDRN), and helped to develop research partnerships with other members of the network. She served as Geisinger Health System's board member for the Health Care System Research Network (HCSRN), a national research organization of integrated health systems, and led the organization's work in research mentoring. Dr. Larson was co-PI on a federally funded Beacon grant to expand the health information exchange and promote the utility of these exchanges for case management.
Dr. Larson was the Director the division of Evaluation, Analysis and Quality in the Center for Behavioral Health Statistics and Quality at the Substance Abuse and Mental Health Services Administration. She also served as the acting Director of the Division of Surveillance and Data Collection. In these roles she was responsible for oversight of teams producing the National Survey on Drug Use and Health, the Treatment Episode Data set, and other data systems. She served as the editor for reports generated from these data sets and served as SAMHSA's Associate Director for Science.