Megan Reed, PhD, MPH
Research Assistant Professor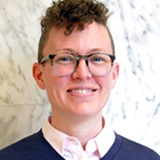 Contact
1015 Walnut Street
Curtis Building, Suite 704
Philadelphia, PA 19107
215-503-0174
215-923-7583 fax
Megan Reed, PhD, MPH
Research Assistant Professor
Research & Practice Interests
Harm Reduction
Hyperincarceration
Program Evaluation
Community Based Participatory Research
Polydrug Use
Overdose Prevention
Drug-Checking
Education
PhD, Dornsife School of Public Health, Drexel University
MPH, CUNY School of Public Health
Publications
Scopus Feed has no publications.
Additional Publications
Solomon E, Salcedo VJ, Reed MK, Brecher A, Armstrong EM, Rising KL. "Im going to be good to me.": Exploring the role of shame and guilt in patients with Type 2 Diabetes. Diabetes Spectr. 2022; ds210062. 
Teaching
Foundations of Public Health
Substance Use as a Public Health Issue
Cannabis & Public Health
Biography
Dr. Reed is a harm reduction researcher interested in designing and evaluating structural interventions in partnership with people who use drugs. Her areas of research are overdose prevention, structural barriers to engaging in risk reduction strategies, community-based participatory research, and drug-checking. Her work with incarcerated people living with HIV has been funded by the NIH. Previously, she worked as a housing organizer in New York City, researched violence against LGBTQI communities, and helped develop harm reduction initiatives for peer-delivered syringe exchange and syringe disposal kiosks. She received her PhD from Drexel University in Community Health and Prevention. In addition to her role at JCPH, she is a Research Assistant Professor in Emergency Medicine at Thomas Jefferson University.
Awards
2021 - Philadelphia Department of Public Health, Formative Research on Point-of-Care Drug Checking Services -Principal Investigator
2021-22 - Vital Strategies, Fentanyl Test Strip Distribution in the Emergency Department - Principal Investigator
2020-23 - MLH Explorations, The Impact of Medical Marijuana as an Adjunctive Treatment for Patients with Chronic, High Dose Opioid Use - Co-Investigator; Principal Investigator, Brooke Worster
2020-22 - Foundation for Opioid Response Efforts, Lowering Barriers, Saving Lives, Reclaiming Health: Integrating MAT - Co-Investigator, Principal Investigator Lara Weinstein
2020-21 - Vital Strategies, Fentanyl Test Strip Outcomes for Non-Heroin Drugs - Principal Investigator
2018-20 - National Institute on Drug Abuse/National Institutes of Health, R36, Addressing Overdose Risk among Recently Incarcerated People Living with HIV/AIDS - Principal Investigator