Andrew Wierzbieniec, MHSA
Lecturer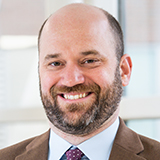 Contact
901 Walnut Street
10th Floor
Philadelphia, PA 19107
215-503-0174
215-923-7583 fax
Andrew Wierzbieniec, MHSA
Lecturer
Research & Practice Interests
Project Management
Strategic Planning
Inpatient and Outpatient Operations
Education
MHSA, University of Michigan
BA, University of Rochester
Certifications
Lean Performance Improvement Methodologies
University Appointment
Lecturer, Jefferson College of Population Health
Teaching
Operational Excellence: Accelerating Transformation
Biography
Mr. Andrew Wierzbieniec has more than nine years of progressive leadership experience in the healthcare industry. He is primarily focused in the academic medicine setting with a background that includes inpatient and outpatient operations, project management and strategic planning.
Mr. Wierzbieniec authored Thomas Jefferson University Department of Medical Oncology's successful application to the CMMI Oncology Care Model pilot program, potentially adding $900,000 annually to the department budget for use in patient-centered initiatives such as nurse navigation and healthcare decision support infrastructure. He facilitated three-year strategic planning efforts at Thomas Jefferson University Hospital (TJUH) in Growth and Finance & Operations value areas and the Cancer Service line from 2008 to 2013. He was selected in 2011, 2012 and 2013 as an examiner for the state of Pennsylvania's Baldridge Examiner group, the Keystone Alliance for Performance Excellence (KAPE). KAPE provides evaluations for state-based organizations based on the Baldridge criteria for performance excellence prior to their national application.
Mr. Wierzbieniec trained in 2008 in Lean Performance Improvement Methodologies, CAP program facilitation and Work Out facilitation. He led performance improvement programs in TJUH Inpatient & Outpatient Labs, Emergency Department, Oncology Infusion Program and Blood & Marrow Transplant Program.
Currently, Mr. Wierzbieniec is Director of Business Development at Penn Medicine. He earned his MHSA in Health Management and Policy from the University of Michigan and his BA in Health and Society (Public Health) from the University of Rochester.