Allison R. Casola, PhD, MPH, MCHES
Lecturer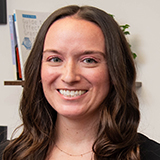 Contact
1015 Walnut Street
Suite 401
Philadelphia, PA 19107
215-955-1878
215-923-7583 fax
Allison R. Casola, PhD, MPH, MCHES
Lecturer
Research & Clinical Interests
Women's Health
Sexual and Reproductive Health
Menstrual Health and Hygiene 
Community and Population Health
Medical and Health Professions Education, Teaching, and Learning

Education
PhD, Temple University
MPH, West Chester University
Publications
Scopus Feed has no publications.
Certifications
Master Certified Health Education Specialist (MCHES)
Biography
Dr. Allison Casola is a Senior Research Investigator in the Department of Family and Community Medicine at Thomas Jefferson University. Dr. Casola's research surrounds sexual and reproductive health, specifically the psychosocial correlates associated with contraceptive use behaviors; as well as women's health and wellness in primary care. Her current work focuses on communication norms and attitudes towards menstrual health and hygiene. Dr. Casola is an active member of the American Public Health Association (APHA) and has served as the Chair of the organization's Student Assembly, ex-officio member of the APHA Executive Board, and a member of APHA's Inter-Sectional Council Steering Committee and Nominations Committee. Dr. Casola earned a PhD in Epidemiology from Temple University, a Master of Public Health degree from West Chester University, and is a Master Certified Health Education Specialist (MCHES).