Mary Reich Cooper, MD, JD
Associate Professor
Program Director, Healthcare Quality and Safety
Program Director, Operational Excellence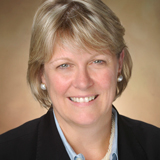 Contact
901 Walnut Street
10th Floor
Philadelphia, PA 19107
215-955-3888
215-923-7583 fax
Mary Reich Cooper, MD, JD
Associate Professor
Program Director, Healthcare Quality and Safety
Program Director, Operational Excellence
Research & Practice Interests
Healthcare Quality and Safety
Quality Methodologies
Patient Safety
Operational Efficiencies
Health Systems Science
Education
JD, Pace University
MD, Temple University
AB, Duke University
Publications
Additional Publications
Cooper MR, McWilliams T, Duquette C, Klein AA. The Unintended Consequences of Being Friendly:  A Case Study.  Journal of Healthcare Quality.  Sept/Oct 2009 31(5):43-47.
Kobayashi L, Lindquist D, Jenouri I, Dushay K, Haze D, Sutton E, Smith J, Tubbs R, Overly F, Foggle J, Dunbar-Viveiros J, Jones M, Marcotte S, Werner D, Cooper M, Martin P, Tammaro D, Jay G.  Comparison of sudden cardiac arrest resuscitation performance data obtained from in-hospital incident chart review and in situ high-fidelity medical simulation.  Resuscitation.  April 201081(4): 463-471.
Kobayashi L, Dunbar-Viveiros JA, Sheahan BA, Rezendes MH, Devine J, Cooper MR, Martin PB, Jay GD.  In situ simulation comparing in-hospital first responder sudden cardiac arrest resuscitation with semi-automated defibrillators and automated external defibrillators. Sim Healthcare. April 2010 5(2):82-90.
Cooper MR, Flynn J, Daughenbaugh P, Martin K. State-wide Leadership Creates a Culture of Patient Safety in Rhode Island. Patient Safety and Quality Healthcare. Sep/Oct 2011.
Cooper MR, Hong A, Beaudin E, Dias A, Kreiser S, Ingersol C, Jackson J. Implementing High Reliability for Patient Safety. Journal of Nursing Regulation. April 2016, 46-52.
Burrows G, Wagner C, DeFrancesco M, Greene J, Honigfeld L, Morosky C, Casagrande K, Cooper MR, Regional Neonatal Abstinence Syndrome Education Increases Provider Knowledge Connecticut Medicine 83:5 May 2019 261-7.
Teaching
Advanced Applications of Quality & Safety in Clinical Settings
Healthcare Quality & Safety Capstone Seminar & Project
Biography
Dr. Cooper is Associate Professor of Population Health and Program Director for Healthcare Quality and Safety and Operational Excellence at JCPH.  She designed and inaugurated the Quality Improvement and Patient Safety Leadership (QIPS) program and the implementation of the Health System Science curriculum for the Sidney Kimmel Medical College in the JeffMD curriculum. 
She is on the Board of the American College of Medical Quality, the QTIP Editor for the American Journal of Medical Quality, and a national speaker on patient safety, healthcare quality, leadership, and social determinants of health.
Much of Dr. Cooper's career has been leading healthcare quality and patient safety for academic medical centers and affiliated organizations. Dr. Cooper was the Chief Quality Officer and Senior Vice President, Clinical Services for the Connecticut Hospital Association (CHA) from 2012 to 2021. At CHA, she was responsible for overseeing the implementation of High Reliability Science throughout the hospitals in Connecticut, creating value for the hospitals with their quality and safety strategy, and working closely with the state government and quality organizations. Dr. Cooper also oversaw CHA's work in Population Health, including Social Determinants of Health and the Connecticut Perinatal Quality Collaborative.
Prior to her work at CHA, Dr. Cooper was in Rhode Island for five years, where she was Senior Vice President and Chief Quality Officer for Lifespan Corporation, a four-hospital health system based in Providence. She was an Assistant Professor in Medicine (Research) at The Warren Alpert Medical School of Brown University and a Member on the Rhode Island State Board of Medical Licensure and Discipline for five years. She went to Lifespan in July 2007, after twelve years at New York-Presbyterian Hospital, where she served as the Chief Quality Officer.
Dr. Cooper received her undergraduate degree cum laude from Duke University, her medical degree from Temple University School of Medicine, where she was elected to AOA, and her degree in health law from Pace University School of Law. She has numerous publications and grants, and her interests are large-scale change and health policy.