Brandon J. George, PhD, MS
Assistant Professor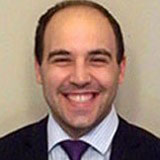 Contact
901 Walnut Street
10th Floor
Philadelphia, PA 19107
215-503-3852
215-923-7583 fax
Brandon J. George, PhD, MS
Assistant Professor
Research & Practice Interests
Biostatistics
Cardiology
Obesity
Longitudinal Imaging Data
Cluster Randomized Trials
Predictive Modeling
Survival Analysis
Scientific Rigor and Reproducibility
Education
PhD, University of Alabama at Birmingham
MS, Washington University
BS, Washington University
Publications
Scopus Feed has no publications.
University Appointment
Assistant Professor, Jefferson College of Population Health
Teaching
Fundamentals of Health Statistics
Advanced Statistics
Biography
Dr. Brandon George is Assistant Professor in the Jefferson College of Population Health. Under the mentorship of Dr. Inmaculada Aban, he received his PhD in Biostatistics in 2014 from the University of Alabama at Birmingham (UAB). His dissertation considered a separable parametric spatiotemporal correlation structure for the analysis of longitudinal imaging data, inspired by a clinical trial at UAB that examined left ventricular remodeling in patients with mitral regurgitation. After finishing his dissertation, Dr. George worked in the Office of Energetics at UAB under Dr. David Allison, where he worked in the field of obesity and nutrition research both assisting with in-house projects and attempting to improve the caliber of statistics in that field to enhance scientific rigor and reproducibility. He also received a BS and MS in biomedical engineering in 2009 from Washington University in St. Louis, where he specialized in artificial surfaces for blood-contacting devices.